Freighter conversion suppliers expect a strong e-commerce market to support the switching of passenger jets to cargo use, although capacity and manpower could present challenges.
Mike Doellefeld, vice president of commercial freighter conversions at Boeing, is upbeat about prospects for the 737-800BCF, noting that the company has redelivered about 100 conversions, and has orders for 250 more. The company's 767 conversion business also been robust, with about 60 redeliveries.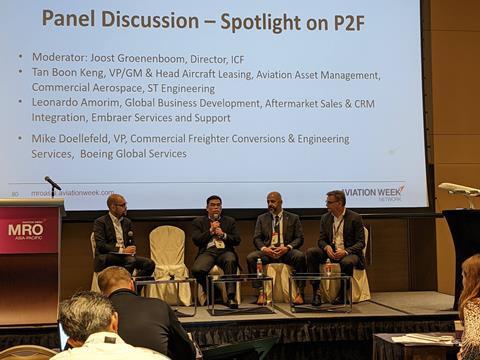 "When we look at our market the singular word I would use is 'strong'", he says. "Our current market is doing very well. The last few years have provided a surge particularly in the cargo and freight market, that's due in part to the strong demand for Ecommerce and the emergent express cargo market."
Doellefeld made the remarks at the MRO Asia-Pacific exhibition in Singapore. He was on a panel with Tan Boon Keng, a vice president at ST Engineering's commercial aerospace unit, and Leonardo Amorim, who works in aftermarket sales at Embraer Services and Support.
Tan, whose company has long specialised in freighter conversions, says that slots for its A320P2Fs are fully booked. He adds that the coronavirus pandemic provided a strong boost owing to the rise in Ecommerce, and also freed up feedstock aircraft for conversions.
"Over the next few years, conversions will be ongoing…the question is whether we have enough capacity to speed up the process," says Tan.
As for Embraer's Amorim, he notes that the company's new E190/E195 freighter conversion programme has a niche A320 and 737 conversions at the high end, and turboprop conversions at the low end. Embraer is working on the forecast that Ecommerce will enjoy a compound annual growth rate of 10% over the next five years.
"There is clearly a niche between the aircraft with shorter range and smaller volume, and the beginning of the market for narrowbodies," he says.
The company estimates that there are 700 E190/E195s that are reaching an age where it makes sense to convert them to freighter use. In addition, Amorim says that E-Jet conversions are well placed to replace legacy narrowbody freighters, such as converted 737-300/400s. When it launched the conversion programme in March, Embraer said that it expects converted E-Jets to enter service in early 2024.
Tan adds that there are real challenges with staffing. During the pandemic many people left aviation and are unlikely to come back. This leaves it to the industry to attract and train new people, which takes time. In addition, there are supply chain challenges owing to geopolitical events, such as Russia's invasion of Ukraine.
Cirium fleets data indicates that there were 144 freighter conversions last year, of which 102 involved Boeing types, mainly 737s. This marked a big jump from 2020 with 88 conversions, and 2019, with 80.