United Airlines is reportedly talking with Airbus and Boeing about purchasing a total of 200 aircraft, including jets from both airframers.
That is according to reports from Bloomberg and Reuters that cite unnamed industry sources.
Neither United, Airbus or Boeing have confirmed the reports.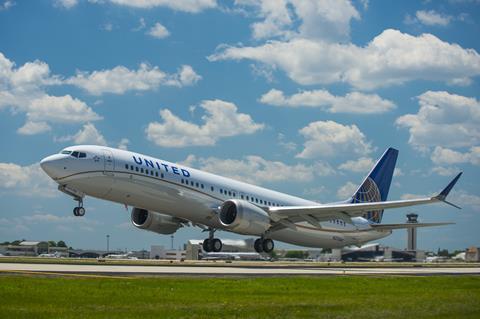 The Chicago-based airline is negotiating deals to buy A321neos and up to 150 737 Max, the reports say.
"We do not currently have a deal in place with Boeing or Airbus to purchase new aircraft and do not comment on speculative aircraft orders," United tells FlightGlobal. "We have, for months now, turned our attention away from managing the crisis of the pandemic and toward planning for our bright future."
United aims to capitalise "on the financial benefits" of increasing the size of the aircraft in its fleet, the airline adds.
Boeing declines to comment about "customer discussions", and Airbus did not immediately respond to a request for comment.
News of the potential order comes as US airlines seek to ramp up flying to meet a swell in air travel demand following the Covid-19 pandemic. Some airlines are predicting that the size of their domestic operations will be on par with 2019 levels by year-end.
United's current narrowbody fleet includes 128 A320-family jets and 364 Boeing jets, among them 30 Max 9s, 295 737NGs and 39 757s, according to Cirium data.
Nearly half of United's 737NGs are at least 20 years old, while its 757s range between 17 and 26 years old. The carrier's A320-family jets have an average age of 22 years, according to Cirium data.