Virgin Australia will add nine more Boeing 737-800s to its fleet by February 2022, as it forecasts an uptick in domestic travel demand on the back of rising vaccination rates.
The Brisbane-based carrier also disclosed that it has "commenced planning" for the delivery of its first 737 Max 10 in mid-2023.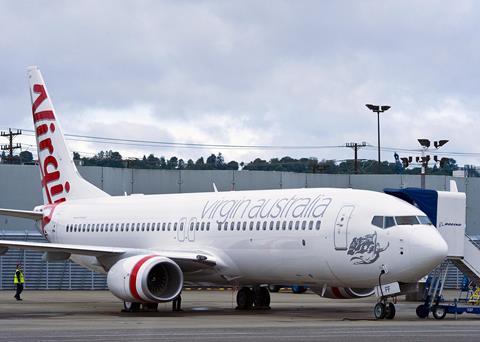 In a 27 August announcement, Virgin Australia states that the first of nine 737-800s will enter the mainline fleet from October, with deliveries to wrap up by mid-February 2022.
The additional aircraft — planned for operations during the Australian summer season — will take Virgin Australia's mainline fleet to 77 jets. These comprise 75 737-800s and a pair of -700s.
Says Virgin Australia chief Jayne Hrdlicka: "These extra aircraft are an important part of our planning and ensure we are ready to ramp up flying and meet the pent-up demand for domestic travel as soon as the opportunity presents itself."
Hrdlicka adds: "With this extra fleet capacity, we will be well positioned to reach our target share of 33% of the domestic market, and service the destinations that our customers want with the frequency they expect."
It is the second time the carrier has expanded its fleet after exiting from administration in 2020. In April, it announced it was bringing back 10 737s to its fleet, in anticipation of strong domestic recovery.
On the 737 Max fleet, Virgin Australia did not elaborate about its preparations, except to say that the type — still not cleared to fly in Australia following a two-year grounding — "will deliver greater operational efficiencies and enhanced product and design features for customers and the environment".
The carrier has 25 examples on order, and will be the only carrier in the country to operate the type so far.
Virgin Australia's fleet ramp-up comes as Australia battles an ongoing wave of coronavirus infections that has forced at least two states — New South Wales and Victoria — to go into strict lockdown, and crimped interstate travel demand.
Still, Hrdlicka notes that the "underlying consumer desire for travel is strong", and that the carrier is "crystal clear" about its strategy and medium-term growth opportunities.