Some top aircraft lessors remain unconvinced about the viability of electric passenger aircraft and whether in-development air taxis and other first-generation electric types even fit within their leasing business models.
Those companies are Air Lease and AerCap, whose executives in recent days expressed hesitancy about jumping into the electric aircraft segment, which has recently attracted massive investment amid promises of transforming urban and regional travel.
At least one aircraft lessor – Avolon – recently threw itself into the electric aircraft ring by committing to purchase an electric vertical take-off and landing (eVTOL) aircraft being developed by UK firm Vertical Aerospace.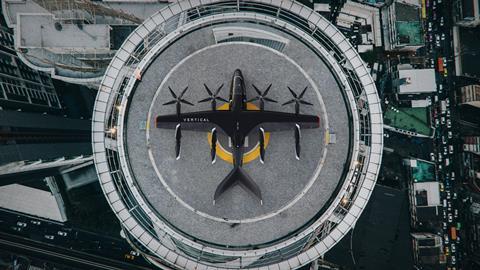 "We just don't see the business case yet. We don't have enough information to really make a meaningful determination," Air Lease chief executive John Plueger said of electric aircraft during that company's second-quarter earnings call on 5 August.
Still, he says Los Angeles-based Air Lease continues "to look seriously" at the segment.
Air Lease executive chairman Steven Udvar-Hazy notes that in-development electric aircraft sit outside Air Lease's prime market – leasing large jet aircraft with more than 150 seats.
"We just don't see any current [electric aircraft] technology that can address that," Udvar-Hazy adds. "It's at the very early embryonic stages, and only addresses very short-haul opportunities."
On 29 July, Aengus Kelly, chief executive of Irish lessor AerCap, said lessors need aircraft they can economically transfer between airline customers, including those in different regions of the world.
Its not clear eVTOLs fit within that model.
"A lessor wants an asset that can be transition to amongst customers around the globe… maybe from Canada to Jakarta," says Kelly. "That's what you need to be able to do for lessor's product to work".
He thinks "electric powered vehicles are coming". But when, and what missions they will ultimately perform, remains unclear, he says.
"The timeframe, and to what the missions will be, and as to whether or not they can be commercially sized aircraft that can carry humans – that's another matter altogether," Kelly says.
Their comments come as countless start-ups are seeking to achieve certification for electric aircraft. Those companies include eVTOL makers like Joby Aviation, Wisk Aero, Archer Aviation, Vertical Aerospace and Volocopter. Other companies like Eviation and Heart Aerospace are working to developed fixed-wing electric or hybrid-electric aircraft. In Canada, commuter carrier Harbour Air is working to certify a De Havilland Canada DHC-2 Beaver modified to have an electric motor.
Many of the start-ups have in recent years attracted sizeable investments and unveiled plans to become publicly traded companies.
In June, Dublin-based aircraft lessor Avolon made a move, ordering up to 500 of Vertical's VA-X4, a five-person, winged eVTOL.
Avolon, which pegged the deal's potential value at $1.25 billion, also said it would become an equity investor in Vertical but has not disclosed the amount of investment.