US electric air taxi developer Wisk Aero has secured $450 million in new funding from Boeing, an existing backer that helped form Wisk in 2019 through a partnership with Kittyhawk.
The funds will help make Mountain View, California-based Wisk among the air taxi industry's best-funded players and help propel development and certification of an electric vertical take-off and landing (eVTOL) aircraft for passenger flight, Wisk says on 24 January.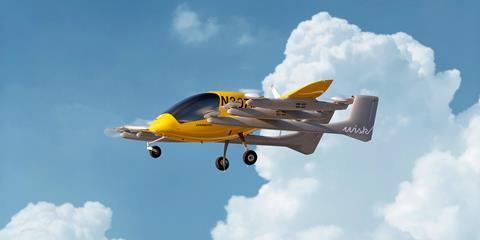 "The funding will also support the company as it enters an intensive growth phase over the next year, its preparations for the launch of scale manufacturing and the company's go-to-market efforts," Wisk adds.
The deal emphasises Boeing's bet on Wisk's autonomous technology and the promise of intra-city electric air taxi transportation. Boeing has previously stressed interest in bringing increasing levels of autonomy to future large commercial aircraft.
"We are reconfirming our belief in Wisk's business and the importance of their work," says Boeing chief strategy officer Marc Allen.
Wisk says the advanced state of its autonomous technology gives it a lead on competitors. Within five years of certification, the company intends to have "one of the industry's largest" air taxi fleets and to operate 14 million annual flights in 20 cities, it says.
"As we enter this next stage of our growth, this additional funding provides us with capital while allowing us to remain focused on our core business and our number one priority – safety," Wisk says. "We are incredibly fortunate to have Boeing as not only an investor but a strategic partner."
Wisk came into being in 2019, formed as a joint venture between Boeing and another US electric aircraft developer called Kittyhawk. The partners formed Wisk for the purpose of developing and certifying an all-electric passenger air taxi. Wisk has not disclosed other details about its financial backing.
Wisk has been developing a prototype called Cora that has range of 22nm (40km) and speed of about 87kt (161km/h). The company has completed more than 1,500 test flights of its full-scale aircraft.