When the doors formally opened at Bombardier's impressive service centre at London's Biggin Hill airport on 30 November it capped a remarkable 12 months for the Canadian manufacturer as it continues to invest in its industry-leading customer support network. The strategy is clear – to grow aftermarket revenues to $2 billion by 2025 by providing customers with the best service experience in business aviation.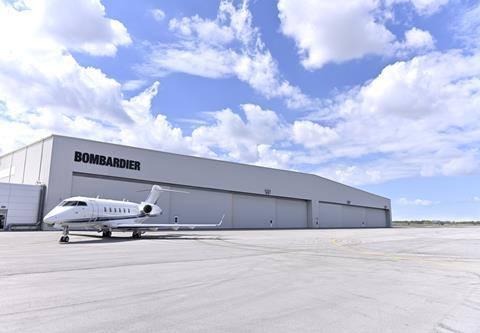 The dedicated business aviation airport in the southern suburbs of the UK capital is the fourth new or significantly expanded service facility Bombardier has inaugurated in 2022. In total, it has added more than one million square feet (92,000 sq. m) to the worldwide service estate. The investment in London follows the opening of the Miami Opa-locka Service Centre in October, and, a month earlier, a new service facility in Melbourne, Australia. In June, Bombardier unveiled its latest facility at Singapore's Seletar airport.
Essendon Fields in Melbourne took Bombardier's worldwide in-house service network into double figures, putting the vast majority of operators of the company's three business aircraft brands within reach of a company-run centre. In addition to Miami, there are four sites in the USA: Dallas, Texas; Hartford, Connecticut; Tucson, Arizona; and Wichita, Kansas. Outside the USA, Bombardier also operates from Berlin in Germany and Tianjin in China.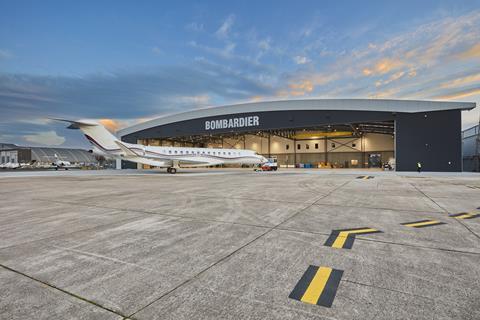 While Melbourne is that territory's first Bombardier-owned service operation, Opa-locka in Florida replaces a smaller site in Fort Lauderdale, and Singapore follows a revamp that quadruples the area of the previous set-up at the island state's secondary airport. At Biggin Hill, Bombardier has swapped its existing hangar for a new standalone structure more than twice its size. It becomes the largest business aviation facility in the UK.
As Bombardier's fleet grows – driven largely by demand for its latest Global variants, as well as for its updated Challenger pairing – the expansion programme is about providing existing customers with a better service by opening more slots and speeding up turnaround times, but also putting operators in some markets within easier reach of a Bombardier-run facility.
Éric Martel, president and CEO of Bombardier, says the aim is to "bring more Bombardier jets home no matter where they operate." This is certainly the case in Australia, where there are more than 80 Bombardier business aircraft. The new Miami centre too will improve the experience for owners in Latin America and the Caribbean, as well as those from northern states who winter in Florida.
"Fort Lauderdale was a challenge because of its size," concedes Chris Debergh, vice-president and general manager parts and services for Bombardier. "The new one is four times the size." The 29,000 sq. m facility comprises two hangars – one dedicated to Bombardier's largest jets and capable of housing nine Globals, the other with capacity for 30 Challengers and Learjets.
Adding to the convenience is the fact that Opa-locka is a dedicated general aviation airport and closer to Miami's central business district than Fort Lauderdale International – which Bombardier will vacate by the end of the year. "It's easier getting in and out than at a major commercial airport," says Debergh.
While Miami caters for one of Bombardier's largest clusters of aircraft, all within a few hours of the conurbation, Melbourne closes a crucial network gap for the manufacturer. Singapore may be part of the same wider Asia-Pacific region, but Australia's largest, east coast cities, where most of Bombardier's fleet is, are more than seven hours flight away.
Meanwhile, those mainly from Southeast Asia using the expanded, 27,000 sq. m Singapore facility – which originally opened in 2014 – now have access to paint and interior finishing facilities. Global customers also have the option to lease BR710 engines from Rolls-Royce stored on site, reducing downtime and costs, according to Bombardier.
Bombardier has also this year been increasing capabilities at other sites. In Dallas, it has added interior repair and refurbishment services, partnering with cabin specialist Global Engineering & Technology. It has expanded by 3,000 sq. m its line maintenance hangar at Paris Le Bourget – Europe's busiest business aviation airport – creating space for three Global 7500s.
As well as ramping up its physical footprint around the world, Bombardier is also increasing the number of specialist technicians it employs. The opening of Miami will add more than 300 of these skilled jobs, while the 200-strong headcount in Singapore will grow by 50 once the new facility is at full capacity. The expansion in Australia has created 65 openings, including 48 technicians.
According to Jean-Christophe Gallagher, Bombardier's executive vice-president, services and support, and corporate strategy, this year's more than 50% increase in the company's worldwide infrastructure footprint is part of a commitment to "offer our customers new and exciting products and services to continuously deliver service excellence."
The expansions in Singapore, Australia, Florida and London, he adds, are "a key part of our strategy to increase our aftermarket revenues to $2 billion by 2025 ".