Bombardier expects to increase business jet deliveries by "a minimum of 15%" as strong demand for private flying drives the company's resurgence.
The Canadian airframer said on 9 February it plans to deliver "more than 138 jets", and is targeting revenue of greater than $7.6 billion in 2023, a more than 10% increase over 2022. The company produces the Global and Challenger series of business jets.
"We are operating in a sweet spot," said chief executive Eric Martel, speaking on a 9 February full-year earnings call. "As we see the market stabilising we are not going to overtweak our rates, we are going to stick to the plan and make sure our production is de-risked."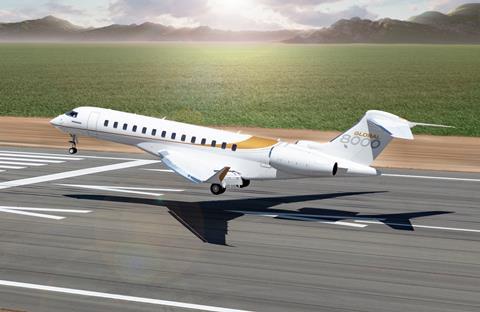 "You can expect quarter-on-quarter variances due to the seasonability of the delivery schedule, but demand is stable," he adds.
The Montreal-based company posted a loss of $148 million for the full year, compared with a $5 billion profit in 2021. However, that figure included the sale of its rail division to French company Alstom for $3.6 billion in January 2021.
In the fourth quarter, profit came in at $241 million, slightly higher than the $238 million during the same three months a year earlier. Revenue in the final quarter reached $2.6 billion, up from $1.8 billion in 2021.
The company reported last month that it had delivered 123 aircraft in 2022, and generated revenue of $6.9 billion for the year, up from $6 billion in 2021. Of those jets, 49 were delivered in the final three months of the year, against 38 in the last quarter of 2021.
Bombardier's backlog is $14.8 billion, which represents "solid ground" for the company, Martel says, as 2023 began strongly.
"We see a resilient start to the year," he adds. "We see our start to be a normal start, with activity across the board, not just on one category of airplane." In Asia, there has been "a little more activity".
But while the company would have the ability to increase its jet output to up to 200 per year without making further infrastructure investments, Martel says it's being conservative due to the risks in the supply chain.
"We still have quite a bit of room to increase our rate without increasing footprint," Martel says. "We are recognising in our guidance that there is supply chain risk" that the company needs to "manage properly".
"What we have seen so far is clearly that the supply chain is getting slowly better and better," he adds. "There are less suppliers that we have issues with, but those that remain have deeper issues that we need to help them with. It's a more manageable situation."
In May last year, Bombardier introduced the newest member of its business jet portfolio, the Global 8000. Development is "progressing to plan", it says, with "testing and certifications proceeding on schedule".
Certification of the jet is slated for 2025, and it is expected to enter service later that year. NetJets will be the type's launch customer, having placed a firm order for four units.
Many Global 7500 customers have expressed interest in upgrading to the new jet when it becomes available, Martel adds.