Aircraft components from the China Eastern Airlines Boeing 737-800 that crashed in central China have been found more than 10km away from where the aircraft is said to have gone down, say investigators on the third day of search and rescue operations.
The update, disclosed at a daily press conference, comes as recovery teams begin locating larger aircraft parts, including what is believed to be an engine component.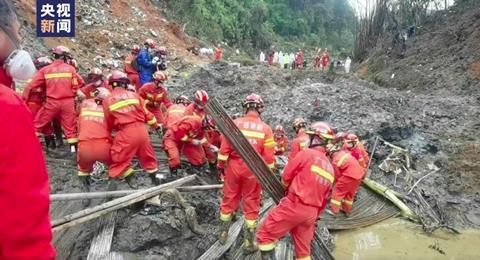 Video footage from state broadcaster CCTV shows recovery crew pulling a large component from muddied ground, near the site where the twinjet crashed. CCTV states that the part "is suspected to be from the aircraft engines", but did not elaborate further.
On 21 March, the aircraft (B-1791) was operating service MU5735 from Kunming to Guangzhou when it crashed over 1h after departure. The aircraft, which was carrying 123 passengers and nine crew, was flying at an altitude of around 30,000ft when it plunged abruptly to ground level.
The discovery comes as the search and rescue efforts intensify to locate the flight-data recorder from the aircraft. No survivors have been found.
Officials at the press conference say as at 16:00 on 24 March, more than 180 pieces of aircraft parts, as well as human remains and passenger belongings, have been found.
Recovery teams are also widening the area of search, noting that debris from the crash are scattered across a 2,600sq m area (28,000sq ft). They already located the badly-damaged cockpit-voice recorder from the wreckage, with the device sent to Beijing for decoding and analysis.
The crash is one of China's worst air disasters in more than a decade, and has prompted the country's civil aviation regulators to launch a two-week, sector-wide safety probe.
Since the crash, China Eastern and it subsidiaries have grounded their fleet of over 200 Boeing 737-800s.