Work to recover and analyse data from the flight recorders of the crashed China Eastern Airlines Boeing 737-800 is ongoing, and could take a while given how "severely damaged" they were, say Chinese investigators.
In a statement on the preliminary investigation report into the country's worst aviation disaster in more than a decade, the the Civil Aviation Administration of China (CAAC) did not disclose any information retrieved from the recorders, both of which are now in Washington DC for analysis.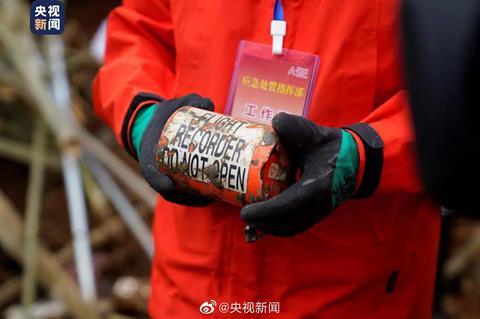 Instead, the CAAC statement on 20 April lists the events leading up to the crash, shedding more details into the incident, but offers no suggestions on likely contributory factors, nor does it provide any technical or safety recommendations.
On 21 March, the China Eastern 737 (B-1791/MSN41474) crashed near Wuzhou in Guangxi province in central China. It was operating service MU5735 from Kunming to Guangzhou and was carrying 123 passengers and nine crew members, all of whom died in the crash.
The CAAC says the 737 entered the Guangzhou flight information region at 14:17, at a cruising altitude of around 29,000ft.
Three minutes later, the aircraft was found to have "deviated" from its normal flight path and altitude. Calls from Guangzhou air traffic controllers to the aircraft went unanswered.
Another two minutes later, the aircraft radar signal disappeared. The CAAC says the last recorded altitude before the signal loss was around 11,000ft, and its ground speed was 1,010km/h.
The agency adds that most of the aircraft wreckage has been recovered in the core impact area, including the jet's horizontal stabiliser, rudder, engine parts, wings as well as landing gear. One piece of a winglet was located about 12km away from the crash site.
The aircraft, which was delivered to China Eastern in June 2015, was also found to be airworthy before flight, even as it was briefly parked in the days leading up to the crash.
The CAAC also notes that the flight crew, cabin crew and maintenance crew were qualified. No dangerous goods were on the aircraft.
In the immediate aftermath of the crash, China Eastern and its subsidiairies grounded their fleet of more than 200 737-800s. On 17 April, less than a month following the crash, the carrier resumed operating a small number of aircraft.
Chinese authorities did not indicate when they expect to complete a full analysis of the flight-data and cockpit-voice recorders, both of which were found days after the crash. The CAAC previously stated they expect to release a preliminary investigation report by 20 April – 30 days after the crash – per ICAO rules.
The US National Transportation Safety Board is assisting with investigations, though they have said they will not release any information about the crash, noting that China has that authority under ICAO protocols.