Cebu Pacific will take delivery of three more Airbus A330neos this year — taking its current fleet to five examples — and the remaining 11 jets will follow over the next four years.
The airline is also looking to take delivery of four narrowbodies across the year, Cebu Pacific chief executive adviser Michael Szucs said today during a media briefing at the Singapore Airshow, where it has one A330neo on static display. The low-cost carrier operates a mix of Airbus narrowbodies.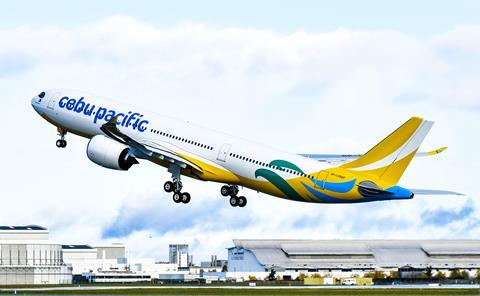 Cebu Pacific's A330neos, which it configures in a high-density 459-seat layout, will primarily serve domestic and short-haul routes "of between two and three hours".
The aircraft is currently operating domestic flights between Manila and what the airline calls "key Philippine hubs" like Davao and General Santos, where demand has been healthy.
"Principally, its mission is really about short haul travel," says Szucs, who adds that once international travel restrictions ease further, the aircraft will fly to points in Southeast Asia such as Singapore and Hong Kong.
He says the logic of using the aircraft on short-haul routes — traditionally a mainstay of medium- to long-haul operations — lies with slots at "congested airports" in its network, including its hub at Manila.
Szucs believes that the higher density A330neo will enable the airline to "increase the number of people that are flying around without constraining the airports".
Cebu Pacific first placed an order for 16 A330neos during the Paris Airshow in 2019, and took delivery of its first aircraft in November 2021. It now has two aircraft in its fleet.
The carrier has highlighted the type's environmental credentials noting the low carbon footprint per passenger of the high-density layout .
BACK TO FULL DOMESTIC CAPACITY BY APRIL
Szucs says the airline expects to restore domestic capacity to pre-pandemic levels by April. He adds that traffic on several domestic routes has already climbed beyond pre-pandemic levels, including from Manila to Cebu and Caticlan, the main gateway to beach destination Boracay.
However he expects the airline to only hit pre-pandemic capacity levels on international routes by 2023, owing to the slower easing of border restrictions.
Still, Szucs is optimistic: the Philippines reopened borders to allow fully-vaccinated travellers to enter without quarantine in early February. Neighbouring Singapore, which is a "significant" market for the carrier, has also extended a quarantine-free travel arrangement with the Philippines.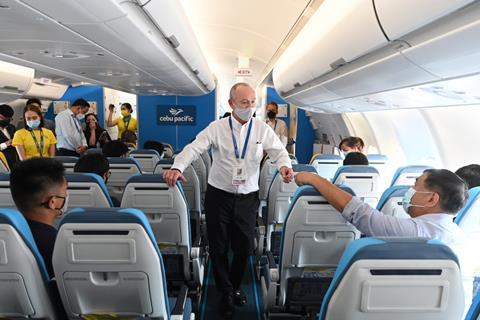 "[There] is no reason [why] these other countries in Southeast Asia that [are] facing the same issues to get the economy open to allow tourism to take place…won't open up," he adds.
While he is bullish about traffic recovery, Szucs — and the airline management team — is more guarded about when the carrier will restore profitability.
Cebu Pacific has been loss-making for several quarters since the pandemic struck. While remaining in the red, it did though narrow losses to Ps6.2 billion ($121 million) for its most recently disclosed quarter, the three months ending 30 September.
The carrier's finance chief Mark Cezar says only that "the whole situation is very volatile", and that it depends "on the amount of capacity that we get".