Turkish Airlines aims to carry 170 million passengers and operate over 800 aircraft by 2033, under a newly unveiled strategic plan which will essentially double the size of the airline over the coming 10 years.
The Star Alliance carrier has already enjoyed a strong return of activites since the pandemic, ending last year with revenues already 39% – and capacity 7% – above 2019 levels.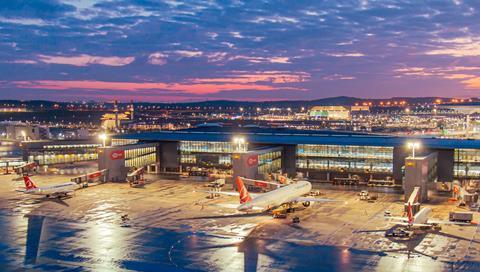 It has now detailed ambitions for the next 10 years – which culminates in Turkish Airlines' centenary – to increase revenues from $18.4 billion last year to over $50 billion by 2033. It also aims for an EBITDAR margin of between 20% and 25% during the next 10 years. The airline reported an EBITDAR margin of 29% last year in posting record profits.
On the passenger side, the growth plan involves doubling capacity at an average annual rate of 7%. This would see passenger numbers jump from an expected 85 million this year to 170 million by 2033.
This will be supported by a doubling of its fleet. The airline ended 2022 with 394 aircraft. It expects the fleet to reach 435 by the end of this year and for it to climb to "over 800" by 2033. Cirium fleets data shows Turkish Airlines has 72 aircraft on order and chief financial officer Murat Seker in March indicated the airline would be "placing a large orderbook" once its 10-year strategy was finalised.
The strategic plan includes increasing the fleet of its low-cost unit AnadoluJet to 200 aircraft. The airline closed last year with 64 jets. Turkish also reiterates its plan to establish the airline as a separate subsidiary, "repositioning its brand, restructuring its revenue and cost structures".
Turkish Airlines similarly aims to double the size of its cargo operation over the next 10 years. Cargo generated more than one-fifth of Turkish Airlines' revenues in 2022.
Turkish Airlines chairman Ahmet Bolat says: "Today, Turkish Airlines, a 90-year-old giant, is in our view a dynamic and young adult, actively continuing its development. Yes, our journey is still very long, and as our country's national airline, we consistently implement and set our short, middle and long-term goals on this adventure where we reach all four corners of the world.
"We are happy to share our goals that will significantly contribute to our country's economy and development in the next 10 years by declaring our strategic planning for our 100th anniversary, which we will celebrate 10 years from now."