Turkish Airlines believes it is well-placed to ride out any aircraft delivery issues this year as it aims to boost capacity by between 10-20% in 2023.
Speaking during a full-year results briefing today, after the Star Alliance carrier on 1 March disclosed record profits for 2022, chief financial officer Murat Seker also said the airline was close to finalising a new 10-year strategic plan under which it will order more aircraft.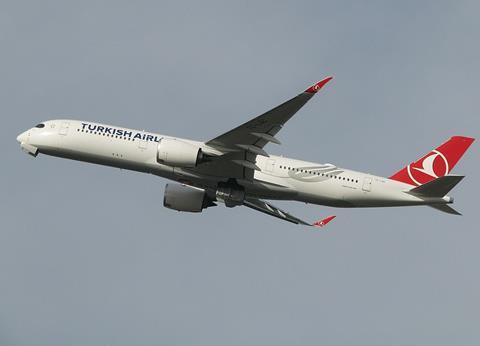 Turkish ended 2022 with 394 aircraft and is due to take 36 new aircraft this year – including a dozen widebodies – and withdraw three units. While deliveries of these aircraft will help support the planned increase in capacity, aircraft and engine manufacturers continue to wrestle with supply chain and ramp-up challenges.
"Currently for this year we are not expecting to have a major change in the aircraft deliveries," Seker says, but acknowledges there have been some issues with both Airbus and Boeing.
"On the Airbus side, they were most balanced. Some of the deliveries that we were supposed to get by the end of last year and going to be received early this year and some that we were going to get towards the end of this year, are going to be deferred to next year. So it's not going to have a significant impact."
Turkish is due to take five A350s from Airbus this year and seven Boeing 787s. The US manufacturer though, has just paused Dreamliner deliveries after discovering what it called an "an analysis error by our supplier related to the 787 forward-pressure bulkhead".
"There is not too much clarity on it yet but we are in close co-ordination with Boeing to see how much it would have an impact on us," Seker says. "But as we always have a balanced fleet between Airbus and Boeing… we have ways to manoeuvre these potential delays in aircraft deliveries. So overall we don't expect significant change in our [capacity] planning this year."
He notes the airline is bringing 10 aircraft in this year on operating leases to cover late deliveries and also has room to increase its aircraft utilisation rates.
"Without any addition to our current fleet, we can increase our capacity by about 10% compared to 2022," Seker says. "Our aircraft utilisation in 2019 was about 12.5h, which declined to 10.45h in 2022. We are expecting to bring it up this year with no concern about the pilot shortages, as we are recruiting a significant amount of pilots this year.
"So overall for the capacity increase, the issues with the OEMs are not going to be a significant bottleneck for our planning of 2023."
TURKISH TO LIFT CAPACITY BY UP TO 20%
Turkish Airlines flew 71.8 million passengers in 2022, just 2.5 million shy of its the figure in 2019. It aims to lift capacity by 10-20% this year.
"Currently we don't see any change on the demand pattern for the upcoming summer season. The strong demand environment that we saw towards the end of last year continued in the first two months of this year, especially in Americas. And we were able to see some normalisation after the opening up of China in the Far East region, which materially supported the forward bookings."
Neither has the carrier seen any negative impact on passenger demand from the devastating earthquake which hit Turkey and Syria in February.
Cargo generated more than one-fifth of Turkish Airlines' revenues in 2022, despite the shifting back of converted passenger aircraft that had been deployed on freight missions missions during the pandemic. "Cargo yields are in decline, as we are seeing global trade is slowing down a little bit," says Seker. "However, we are going to keep a similar amount of capacity and we don't expect a huge deterioration in our cargo performance."
The airline's attentions are now turning to its longer-term fleet requirements with a major aircraft order on the horizon. The airline has been working on a 10-year development strategy, details of which it will present shortly. "Based on that strategy…we will be placing a large orderbook," says Seker. "But putting that aside, with our current fleet from 2024-28…we currently have about 100 firm orders in the pipeline with both Boeing and Airbus."