Turkish Airlines' AnadoluJet arm is to lease a batch of Boeing 737 Max 8s from the Chinese-linked lessor CDB Aviation.
The carrier is to take six of the type from Irish-based CDB.
All six of the aircraft – which are powered by CFM International Leap-1B engines – will be sourced from the leasing company's current Boeing backlog.
They will be fitted out in line with the configuration of AnadoluJet, a subsidiary operator of the Turkish flag-carrier.
CDB Aviation says the aircraft will be delivered over the course of 2024-25.
"Adding these aircraft to the AnadoluJet fleet will contribute significantly to our goals and allow us to present remarkable travel experiences to our passengers," says Turkish Airlines chief investment officer Levent Konukcu.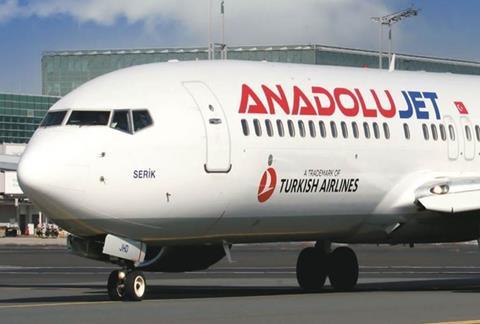 CDB Aviation says the 737 Max deliveries will take the number of aircraft it leases to Turkish Airlines to nine. These include a Boeing 777-300ER, a 737-800 and an Airbus A320neo.
"These highly efficient aircraft will bring Turkish closer to achieving their ambitious sustainability goals by lessening the environmental footprint of their mainline and subsidiary carrier's flight operations," says CDB Aviation chief Jie Chen.