"Dubai, buy, buy" proclaimed the front-page headline of the second edition of Flight Daily News at the 2013 Dubai air show, with photographs of beaming airline and aircraft manufacturer executives. It followed a remarkable opening day that saw record orders placed for 623 aircraft, including 269 for Boeing's new flagship widebody, the 777X.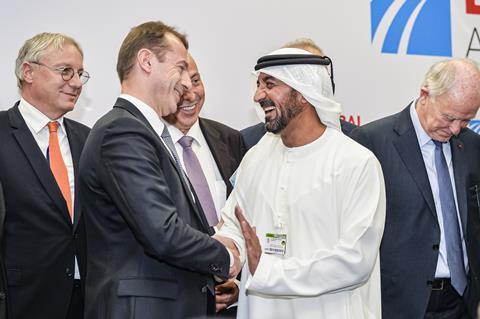 Emirates – which committed to 150 777Xs and 50 Airbus A380s – was the biggest spender, but its fellow Gulf carriers Etihad, Flydubai, and Qatar Airways all placed significant orders, predominantly for Boeing products. Coming not long after the global financial crisis, it was a sure sign that airline confidence was back, particularly in this part of the world.
It is unlikely that blockbuster level of purchasing activity from 10 years ago will be matched at the 18th show – or at any time in the foreseeable future. However, the biennial event, which takes place from 13-17 November, remains one of the most significant fixtures in the industry calendar, and retains the capacity to surprise.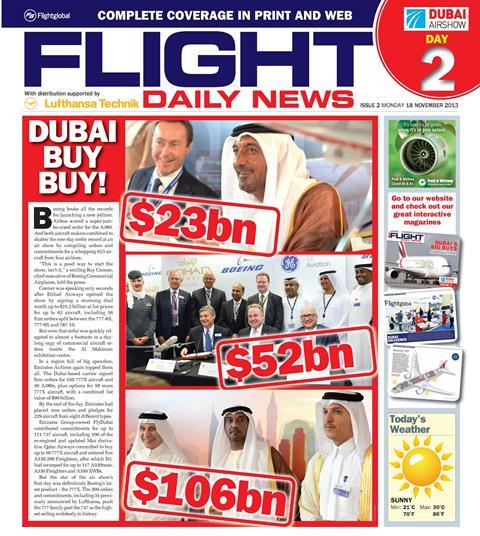 Dubai was arguably the only air show that survived the pandemic unscathed. Unlike its counterpart in Singapore, whose 2020 iteration took place just as Covid-19 restrictions were tightening, and Farnborough and Paris, which cancelled their 2020 and 2021 events, the previous Dubai show benefitted from the post-pandemic bounce-back.
The emirate had been early among international destinations to re-open to foreign visitors, and – while masks and health certificates remained mandatory in November 2021 – the show was the first opportunity many in aviation and aerospace had in more than 18 months to reconnect with industry colleagues face to face.
Dubai 2021 saw orders pass the 500 mark, just as at previous shows. However, it was lesser-known, predominantly low-cost airlines from outside the Middle East, rather than the Gulf powerhouses, doing the bulk of the buying. The inactive Emirates A380s parked at Al Maktoum airport were a sign that full recovery in the long-haul market was still some time away.
Air cargo – which saw a boom during the pandemic thanks to soaring e-commerce at a time when belly capacity on passenger airlines was scarce – was a major theme of the 2021 show, with Airbus securing lessor Air Lease as a launch customer for its A350F, and Boeing announcing more conversion lines for its 737 passenger-to-freighter.
So what might the 2023 show bring in terms of orders? Emirates has made no secret of the fact that it is planning a major new widebody order – "to take us through the 2030s" – after taking delivery just after the 2021 show of its 123rd and final A380. "We are in the market for buying quite a few more aircraft," declared the airline's president Sir Tim Clark at IATA's annual general meeting in June.
The Dubai airline is sitting on orders for 115 777Xs, and the delay of that programme's service entry is causing consternation in the boardroom. Its final A380 – a type it has been flying since 2008 – is due to retire by the early 2030s, along with the last of its 777-300ERs. Whether Emirates opts for more 777Xs or A350s, which it also has on order, remains to be seen.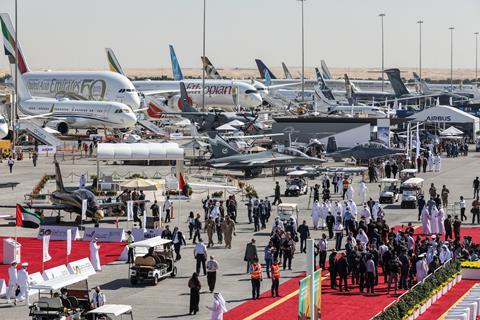 Etihad has also hinted that fleet expansion is on the cards. Its new showpiece hub at the city's international airport – now known as Terminal A – is due to open in November. However, recent years have been ones of consolidation for the carrier, after a failed strategy to expand its global reach through buying substantial stakes in doomed airlines such as Air Berlin, Alitalia and Jet Airways.
Qatar Airways – which missed two Dubai air shows because of the diplomatic spat between Doha and its Gulf neighbours – will be back this year. The airline could be a contender for a major order after earlier this year reaching a settlement over its own long-running dispute with Airbus. However, second-guessing the intentions of its enigmatic chief executive Akbar Al Baker is never easy.
FRESH COMMITMENT
One order that might emerge at Dubai is a single-aisle order from Saudi Arabian start-up Riyadh Air. Chief executive Tony Douglas said in late September that the carrier would follow up its commitment for up to 72 787s – including a firm order for 39 examples – with "a second, sizeable narrowbody order in the coming months, and it will be sooner rather than later".
As for the show itself, the organisers promise 1,400 exhibitors and an 180-aircraft display, together with nine conference tracks covering topics from advanced air mobility to diversity and inclusion, and space exploration to the path to net-zero. The last of these is particularly pertinent as just two weeks after the show, Dubai will host the UN's annual global climate change summit, COP 28.
Our preview package looks at some of the recent key developments in Gulf aerospace and aviation, including developments at the United Arab Emirates' giant hub airports, the growth of the Middle East maintenance, repair and overhaul sector, the ambitions of the region's two big low-cost airlines, and how Gulf governments are modernising their air forces.