Portuguese maintenance shop OGMA has been certified to perform heavy maintenance on Embraer E-Jets E2, a move OGMA majority owner Embraer describes as further expanding its aftermarket reach.
OGMA is now approved "to carry out commercial aircraft heavy maintenance for the E-Jets E2 family of commercial aircraft in Europe, Middle East and Africa," Embraer says on 25 October.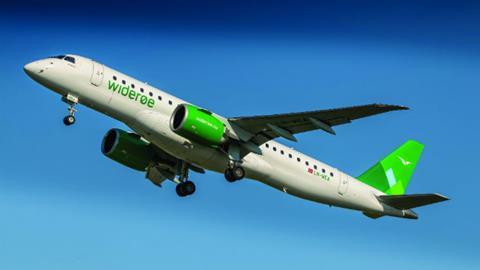 The certification from Portugal's aviation regulator allows OGMA to perform E2 "total fleet management, engineering solutions, airworthiness management, support maintenance and future aircraft modifications", Embraer adds.
It says OGMA's first E2 job will be to maintain an aircraft operated by Norwegian carrier Wideroe.
Embraer has set lofty aftermarket expansion goals. In 2021, the Brazilian airframer's chief executive of services and support Johann Bordais said he aimed to double Embraer's services and support revenue in the "medium term". Embraer reported services and support revenue of $1.1 billion in 2021.
OGMA, of which Embraer owns 65%, is central to that plan.
"Obtaining this certification by OGMA is a crucial strategic step to strengthen Embraer's presence in [Europe, the Middle East and Africa], and is an unmistakable sign of the continued commitment we make to Portugal as a leading technological partner," Bordais says of OGMA's new E2 maintenance certification.
In recent years, OGMA secured authorisations to maintain PW1900Gs, which power E2s, and, notably, PW1100Gs, which power Airbus A320neo-family jets.