Embraer expects a massive revenue bump in the coming years for its Portuguese maintenance unit OGMA as it begins ramping up work on Pratt & Whitney (P&W) PW1000G geared turbofan (GTF) engines.
Executives at the Brazilian airframer, which owns 65% of OGMA, anticipate the company's revenue will triple in short order thanks to the maintenance work which will kick-off shortly.
OGMA secured its place as an authorised GTF service centre in November 2020 and is on track to start maintaining PW1100Gs, which power Airbus A320neo-family jets, before April 2024, Embraer chief executive Francisco Gomes Neto said on 6 November.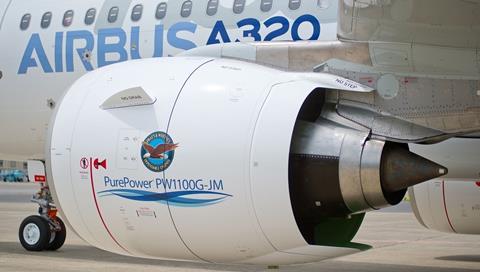 Based in Alverca, near Lisbon, OGMA will also overhaul PW1900Gs, which power Embraer E-Jet-E2s, and has expressed interest in servicing another GTF model, the PW1500G for the A220.
"That is a very important contract for OGMA that will help OGMA to triple its revenues in the next two to three years," Gomes Neto says, speaking during Embraer's third-quarter earnings call.
OGMA in 2022 generated revenue of $217 million and lost $19.5 million, Embraer financial documents show.
"By 2025, we believe OGMA will be closer to $500 million in terms of revenue", says Gomes Neto, with further growth anticipated.
Embraer chief financial officer Antonio Carlos Garcia adds that OGMA will realise "a bit of a positive collateral effect" from P&W's recent recall of more than 1,000 in-service PW1100Gs due to possible defective turbine and compressor disks, although he does not provide more specifics.
P&W says the issue results from manufacturing problems involving powdered metal used to make the parts. P&W has been scrambling to secure maintenance slots for the powerplants, which require early inspections or replacement disks.
Securing the GTF work marks a shift in Embraer's aftermarket strategy toward what its executives have called "agnostic" work, meaning work not directly associated with its own aircraft.
Embraer's entire services division brought in revenue of $1.3 billion in 2022.
The Portuguese state owns the other 35% of OGMA.