The US government's ban on Russia aircraft has left Boeing and GE Aviation unable to continue their longstanding practice of hiring a Russian airline to transport large aircraft components.
Both companies have for years hired Russian carrier Volga-Dnepr Airlines to transport oversized components on US domestic flights, using the airline's Antonov AN-124 freighters.
Those jets can carry outsized cargo that cannot fit in other large freighters, not even 747s. The charter flights typically transport the components between US manufacturing sites.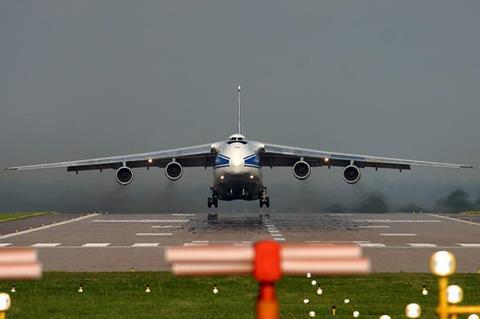 But on 2 March, the US Department of Transportation banned Russian airlines from operating in the USA as part of the US government's economic response to Russia's invasion of Ukraine.
The DOT's order specifically cites Volga-Dnepr. The Federal Aviation Administration confirms the airline can no longer operate in the USA.
Boeing and GE are downplaying potential impacts to their operations.
"We'll work closely with our wide range of supply chain and logistics partners to manage through any potential impacts," Boeing says.
"Regarding engine transportation, we do not have concerns at this time," says GE.
The companies use Volga-Dnepr's aircraft frequently. For instance, on 25 February – the day after Russia's invasion – Volga-Dnepr filed a request with the DOT to operate 12 AN-124 charter flights in March and April between Florida and Washington state "on behalf of Boeing".
Cargo to be carried included 767 "wing boxes", which weigh 23,000lb (10,430kg) each.
"Boeing… is shipping the aircraft parts to meet its deadlines and not to delay B767 production line," said the filing. "Only the use of Volga-Dnepr's outsized aircraft can make it possible to perform the services in question within the set schedule."
Asked to comment, Boeing says it has other shipping options but does not provide specifics. Boeing also declines to comment specifically about Volga-Dnepr or about possible future work with that airline.
Volga-Dnepr did not respond to a request for comment.
AN-124s are powered by four Ivchenko-Progress D-18T turbofans. The aircraft have 1,050cbm (37,080cb ft) of cargo volume, according to Volga-Dnepr's website. By comparison, 747-8s have 858cbm of cargo volume, Boeing's website says.
GE Aviation has also relied on Volga-Dnepr in recent years. In January the Russian airline applied with US regulators to operate three domestic US charter flights on behalf of GE.
Those flights were to be from Columbus in Ohio to Everett or Seattle in Washington. They were to carry various turbofans, including Leaps (which power 737s), GEnx (which power 747-8s and 787s) and GE9X (which power 777-9s).
However, GE says it "did not use the three flights", which were part of its "contingency planning for possible shipment of GE90 engines to Boeing".
"We are closely monitoring the conflict in Ukraine and as always are working closely with the proper authorities to ensure that our businesses are compliant with current sanctions," GE says.
Companies needing freighters as large as AN-124s have few options other than Volga-Dnepr.
Globally, just 35 of those jets are in service or storage, of which Volga-Dnepr operates 12 and Russia's air force owns or operates 13, according to Cirium fleet data. Ukrainian company Antonov Airlines has another seven of the type.