DHL Express and Singapore Airlines have entered an agreement for the operation of five Boeing 777Fs in the Asia-Pacific and to the Americas.
The "Crew and Maintenance Agreement" will see DHL deploy five 777Fs to Singapore, says SIA.

The aircraft, to be based at Changi Airport, will bear a special joint livery. SIA will provide flight crews and maintenance for the aircraft.
Today's agreement builds on and strengthens the long-standing partnership between SIA and DHL," says Lee Lik Hsin, executive vice president commercial at SIA.
"This new freighter operation will support the fast-growing e-commerce segment, in addition to other key business segments that rely on trusted express services that DHL excels in providing."

The agreement runs for over four years, with the first 777F to be delivered in July and the second in October. The final three aircraft will be delivered in 2023.
"With the deployment of five Boeing 777 freighters, we can expand our express service linking the Asia Pacific region with the Americas," says DHL Express executive vice president Travis Cobb.
"Following the pandemic, we see good prospects for strong growth in trans-Pacific trade lanes. By collaborating with Singapore Airlines, we see a unique chance to establish a long-lasting relationship with a long-time partner who shares common values and operates at the highest standard."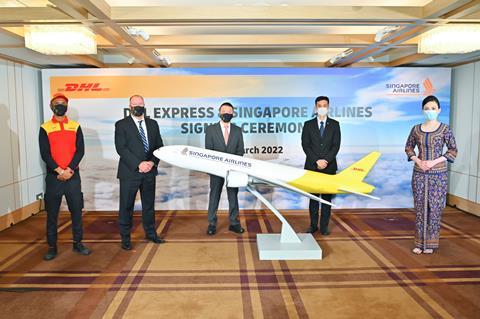 The announcement follows DHL's 9 March order for an additional six 777Fs. This brought to 28 the number of 777Fs it has ordered since an initial order made in 2018. A division of Deutsche Post DHL, the carrier has already received 15 777Fs from Boeing.
SIA's cargo unit serves 90 destinations. It incorporates dedicated freighters as well as bellyhold space aboard flights operated by SIA and low-cost unit Scoot. The airline recently ordered seven Airbus A350Fs to replace its 747-400 freighters.