Singapore Airlines (SIA) has taken delivery of its first DHL Express Boeing 777 Freighter, which it will operate on flights to the USA under a commercial partnership with the logistics giant.
The aircraft (9V-DHA) features a dual SIA-DHL livery, and is the first of five 777Fs to be operated by the flag carrier.
In March, SIA and DHL entered into a four-year "crew and maintenance agreement", which sees SIA operate and maintain the fleet of five 777Fs.

SIA says it expects to take delivery of its second 777F in November, with the remaining three examples delivered across 2023.
The carrier expects to operate the type on flights between the USA and Singapore via North Asian and Australian points. Its first pair of freighters will be deployed on the Singapore-Incheon-Los Angeles-Honolulu-Singapore route six times weekly.
DHL Express executive vice-president for aviation Robert Hyslop says: "The new Boeing 777 Freighter demonstrates our ongoing effort to strengthen our network and adjust flight routes, as well as lower our carbon emissions to achieve greener logistics.
"Singapore Airlines' expertise in flight operations will enable us to better meet our customers' needs in cross-border commerce, as we leverage the strategic location of our South Asia Hub in Singapore."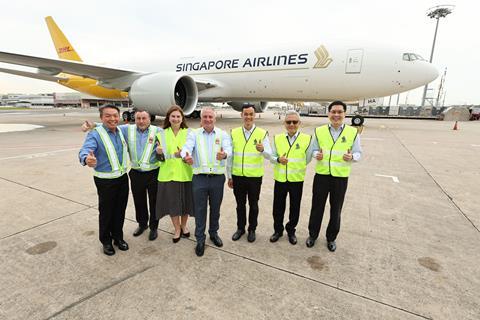 SIA executive vice-president, commercial, Lee Lik Hsin adds: "Apart from supporting the fast-growing e-commerce segment, this new freighter operation provides a foundation to expand the partnership between SIA and DHL in the future."
A total of 90 destinations are served by SIA's cargo unit. It incorporates dedicated freighters as well as bellyhold space aboard flights operated by SIA and low-cost unit Scoot. At February's Singapore air show, the carrier ordered seven Airbus A350Fs to replace its 747-400 freighters.