Cathay Pacific expects to kick off a replacement campaign for its medium-haul fleet in December, as deliveries of new aircraft continue apace.
Airline chief Ronald Lam says the airline "will look at our requirements for the future" as it starts the fleet renewal effort, but does not disclose the size of any potential order.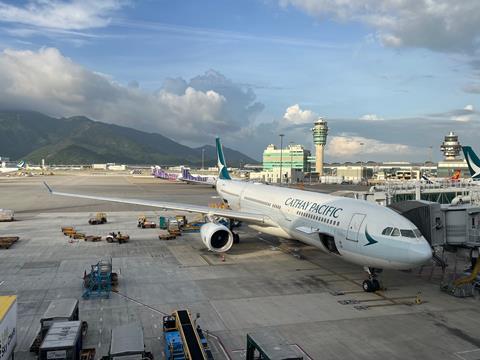 Lam was speaking at the Association of Asia Pacific Airlines' assembly of presidents in Singapore.
A medium-haul fleet renewal programme was first floated by Lam – then the airline's commercial chief – in November 2022, when he said Cathay was "looking at acquiring" more medium-haul jets "to fuel the growth for the group".
Cathay's medium-haul fleet is anchored by Airbus A330s: it has 28 in-service examples, with another five in storage, according to Cirium fleets data.
Lam's comments follow the carrier's recent signing for 32 Airbus A321neo and A320neo narrowbodies, firming up options from a 2017 purchase agreement.
The orders take Cathay Group's commitments for the A320neo-family aircraft to 64, of which it has taken delivery of about 14.
Lam says Cathay resumed taking aircraft deliveries this year, after several deferrals during the Covid-19 pandemic, when airline operations were heavily impacted by Hong Kong's pandemic restrictions.
He also confirms that Boeing 777-9s, which will replace its long-haul 777-300ERs, are still on track for delivery in 2025. The airline has 21 examples on order, and has said that the type will feature brand-new cabin products.
Cathay is "actively looking at opportunities" to grow its freighter fleet, says Lam, reiterating comments he made a year ago about adding cargo capacity. The Oneworld carrier has 20 747 freighters in operation, comprising a mixture of -8Fs and -400ERFs.
"We have been looking at it… because Hong Kong is the world's number one air cargo hub, both in terms of volume and in terms of expertise, and I think Cathay Cargo is a key part of this. Therefore I think it is very important that we look to the long-term," Lam adds.