Newly formed powertrain conversion joint venture Dovetail Electric Aviation has received a launch order from zero-emission lessor Monte covering up to 50 aircraft.
Under the agreement Dovetail – a tie-up between Australia's Sydney Seaplanes and Spanish firm Dante Aeronautical – will supply battery-electric powertrain conversions for Cessna Caravans and hydrogen-electric conversions for Beechcraft King Airs.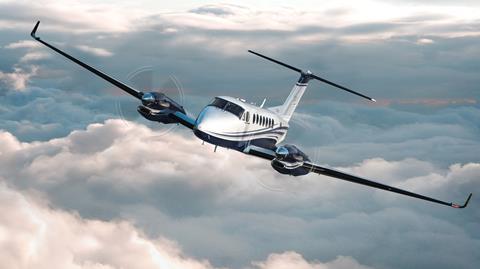 Dovetail is targeting supplemental type certification of its battery-electric conversion for the Caravan by 2025. It will use a 640kW Magnix Magni650 electric motor in place of the stock Pratt & Whitney Canada PT6 engine.
Although the modification will allow zero-emission operations, Dovetail admits the all-electric powertrain will "only be suitable for short missions".
Details of the hydrogen-electric conversion for the King Air are still being worked through, says Dovetail, although it will also replace the standard PT6 turboprop engines with twin Magni650 motors.
Analysis of potential fuel cell stack providers is under way and work on the development of heat exchangers with partners is also ongoing. Dovetail says it is also seeking battery pack providers for the conversion.
Gaseous hydrogen will be used initially to speed market entry, but liquid hydrogen will be considered in the future. Dovetail is looking at several locations for the fuel tanks but declines to disclose details.
A complete powertrain will be located on either side of the King Air to provide redundancy.
Dovetail says there will be payload-range penalty from the hydrogen-electric conversion compared with the maximum performance figures for the conventional-engined variant, "but we are targeting similar payload for the most common missions and ranges".
"The intention behind an electric-hydrogen aircraft conversion for Dovetail is to extend the range of the battery-powered aircraft. Both are zero-emission electric options that we are excited to provide to our customers," says Rachael Barritt, the firm's Australian operations manager.
Last November, Monte outlined a partnership with Spanish powertrain developer Dante Aeronautical to "collaborate on the development and integration of electric and hydrogen fuel cells to power existing, regional turboprop aircraft".
More recently, the lessor signed a separate agreement with ZeroAvia covering the acquisition of up to 100 hydrogen-electric powertrain conversions for Caravans, and twin-engined De Havilland Canada DHC-6 Twin Otters, Dornier 228s and Hindustan Aeronautics-built 228 turboprops. The partners hope retrofit activities can begin in 2024.
Under that pact, ZeroAvia will become the exclusive provider of hydrogen-electric powertrains to Monte for those types.
Dovetail says it cannot comment on agreements between other parties, but says it will pursue its own hydrogen-electric Caravan conversion "with partners like Volotea and Air Nostrum continuously showing interest".
Monte was set up in June 2021 with the aim of becoming a carbon-neutral lessor by 2025. Its shareholders are members of the Eyre family, who also own existing turboprop lessor Montrose Global Aircraft Management. Raymond and Timothy Eyre are the sole directors of both companies.
Timothy Eyre says Monte was created to "focus solely on zero-emission aviation", seeing the near-term conversion opportunity for aircraft in the nine- to 30-seat space.

Dominic Perry is deputy editor of Flight International but also contributes extensively to flightglobal.com. Although specialising in the coverage of the helicopter industry, he has written on most topics in aerospace – be they commercial, defence or business aviation. In addition, there has been an increasing focus on the decarbonisation of the industry and zero-emission flight initiatives.