Boeing has agreed to compensate Southwest Airlines for a portion of projected financial damages from the grounding of the global 737 Max fleet, the Dallas-based airline discloses 12 December.
Approximately $125 million of the compensation from Boeing will be shared with Southwest employees in the form of incremental profit sharing. The terms of the agreement remain confidential.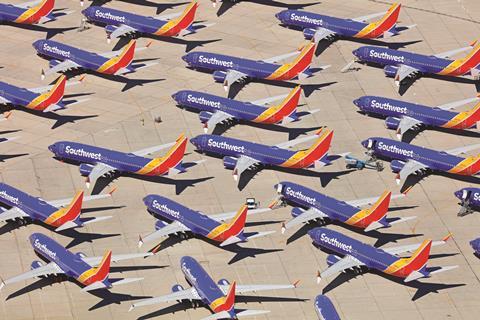 "On behalf of the Southwest board of directors, we are grateful to our employees for their extraordinary efforts throughout the year and are pleased to share proceeds from our recent agreement with Boeing," Gary Kelly, Southwest's board chairman and chief executive states.
Southwest continues to negotiate with Boeing for further damages related to the grounding of the Max.
The US low-cost carrier has estimated the cost of the Max grounding through the third quarter at $435 million.
FAA Administrator Steve Dickson on 11 December confirmed that the Max would not be cleared to fly until 2020.
Leaving aside Southwest's 34 Max's that have been grounded since the fatal crash of 737 Max flight Ethiopian Airlines 302 in March, the airline has 262 Max's on order, Cirium fleets data shows.