In the first of a series, FlightGlobal takes a view from behind the cockpit door with a column from Captain Jeremy Feldman, who operates the Airbus A320 for a large UK carrier.
Being an airline pilot in May 2020 is an unnerving experience. A workforce that thrives on mobility is largely furloughed, with many also awaiting redundancy; a small minority, meanwhile, are still operating what few flights remain.
But despite the grim near-term outlook, airlines are actively preparing for a return to commercial operations.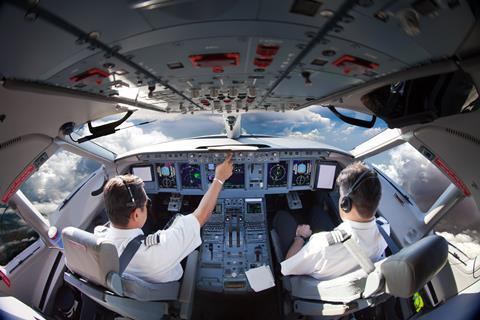 Due to the recent lack of flight time, many pilots will require some form of retraining before they are allowed back to commercial line operations.
That is likely to be a refresher course, probably incorporating some simulator time, with the aim of getting pilots up to speed again, rather than the usual periodic licence skills test.
But while the technical aspects of retraining should present few obstacles, the psychological pressures weighing on pilots – essentially human factors – seem to have been overlooked by airlines and their executives.
Most crews will be happy to return to work as soon as possible and will welcome a return to the cockpit; after all, this is what gets us out of bed in the mornings.
But Covid-19 has left airlines significantly weaker than they were. Cost savings are all the rage, and those pilots and cabin crew not hit by redundancy or airline insolvency are being asked to share the pain through mandatory pay cuts.
Of course, it is not just salary reductions that are being imposed – many carriers are also seeking to impose new terms and conditions on their staff.
Strangely, they are never more generous than those being replaced, and the overwhelming sense is that airlines are looking for productivity gains from their crews.
This will most likely involve extending the maximum working hours currently allowed in a duty period, reducing the rest periods between duties, and a fundamental reduction and overhaul of pay and benefits.
New company HR procedures will probably accompany these changes, most likely involving increased disciplinary action for absence due to sickness, even with a doctor's letter.
As if the job was not fatiguing and stressful enough already, airlines appear set on increasing the working pressure.
Compounding this are fears about contracting the virus itself: cockpit seats are generally less than 2m apart – a clear and obvious risk.
New measures will have to be adopted: cleaning the flightdeck thoroughly between each crew change, for example, or social distancing in some form between pilots and cabin crew.
But while the risk can be mitigated, the worry will remain – particularly for those with vulnerable family members who might then face disciplinary action for staying at home.
In short, the financial and lifestyle pressures that pilots face has never been greater.
It goes without saying that commercial aviation is a safety-critical industry. Pilots are risk managers and need to be mentally clear and focused when at work.
The final responsibility for the safety of the passengers, crew and aircraft lies with the first officer and ultimately the captain.
Surely, then, it is essential once that cockpit door is shut, the flightcrew can work with clear minds?
The aviation industry is facing a crisis like never before. Airlines will need to consider adjusting every aspect of their operation in the post-Covid-19 environment to return to profitability.
The stark reality is that job cuts and fundamental changes to working conditions may well be forced upon pilots.
Nevertheless, it remains absolutely essential that employers are reminded that flightcrew are not just a cost on a spreadsheet, but people with human frailties. Pilots may be highly skilled professionals, but there is only so much pressure a person – skilled or not – can take.
If you are a commercial pilot and fancy writing for FlightGlobal then we would love to hear from you. Just send us a brief outline of what you'd like to cover and we will get back in touch. We are happy to use your contributions anonymously where necessary. Email: dominic.perry@flightglobal.com