Boeing in September ramped up its aircraft deliveries and logged a solid month of orders, handing over 51 jets, including seven 787s, to customers during the month.
The 787 deliveries are the most in one month that Boeing has moved in two years, coming after the company started re-delivering the type in August following a pause due to manufacturing quality issues.
The company in September landed new orders for 96 jets, including for 51 737 Max and for 45 widebody aircraft, the manufacturer says on 11 October.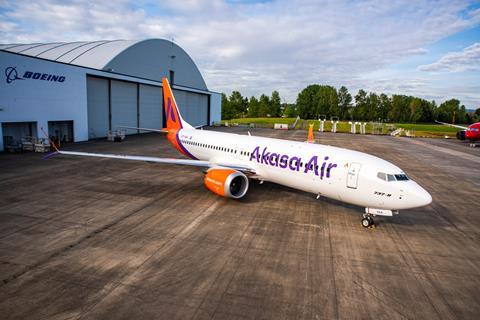 Among the 51 737 Max deals were 42 jets ordered by Canadian carrier WestJet, four ordered by an unnamed customer or customers, and five ordered by an unnamed lessor.
The widebody orders included 12 777X and two 777Fs from unnamed customers, 16 787-9s from Taiwan's China Airlines and 15 767-based KC-46 military refuelling jets from the US Air Force.
During September, however, airlines also cancelled orders, bringing Boeing's net orders, excluding cancellations, to 90 jets.
The cancellations included one 787-9 nixed by an unnamed customer and five 737 Max scrubbed by India's Akasa Air. The airline transferred the orders to a lessor and still intends to operate them under sale-and-leaseback deals, Boeing says.
The manufacturer delivered 51 aircraft in September, up from 35 one month earlier.
The deliveries included three 787-8s to American Airlines, one 787-9 to Japan's ANA (via a deal with lessor Atlantis Aviation), one 787-9 to WestJet and one 787-10 each to British Airways and United Airlines. The USAF took three KC-46s, while FedEx Express and Maersk Aviation each received one 767-300 Freighter. Boeing also delivered one 777F each to FedEx and CES Leasing – China Cargo Airlines will operate the jets delivered to CES.
Boeing's September 737 deliveries including one 737NG-based P-8 Poseidon military surveillance jet to the US Navy and 36 737 Max, including to customers Akasa, Alaska Airlines, Ethiopian Airlines, Flydubai, Gol, Ryanair, Southwest Airlines, United Airlines and several lessors.
Including other accounting changes, the activity left Boeing's end-September backlog at 4,354 aircraft, including 3,510 737s, three 747s, 114 767s, 314 777s and 413 787s.
Year-to-date, the company had received orders for 542 jets, logged 114 cancellations and delivered 328 aircraft.