Canadian airline WestJet is expanding its fleet of narrowbody passenger aircraft with an order of 42 Boeing 737 Max 10s, with options for 22 more.
The aircraft are scheduled to be delivered through 2028, WestJet said on 29 September. In addition to 23 existing 737 Max orders, WestJet is expecting to "accept delivery of no fewer than 65 aircraft in the next six years", chief executive Alexis von Hoensbroech says. At least 50 of those will be 737 Max 10s.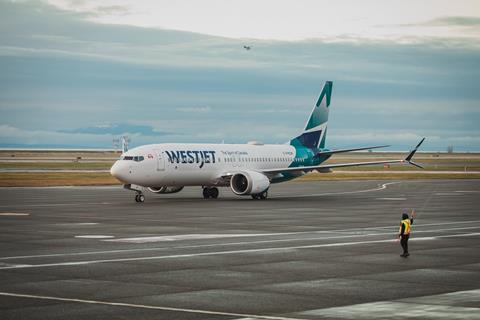 "WestJet's expansion plans are rooted in an enhanced presence in western Canada and a growth strategy in eastern Canadian communities through increased continental flights and more direct routes to sun and leisure destinations," von Hoensbroech adds.
Boeing touts the Max 10 as its "largest and most efficient single-aisle jet" and an asset in meeting WestJet's long-term sustainability goals. "Each 737-10 will reduce CO2 emissions by millions of pounds per year" relative to the aircraft it replaces, Boeing says.
"The 737-10 will be a game-changer, with one one of the lowest costs per seat among mid-range aircraft," von Hoensbroech says. "This will foster our low-cost positioning and affordability for Canadians. In addition, with its lower fuel consumption and reduced emissions, the 737-10 will further improve the environmental footprint of our fleet."
The 737 Max 10 has a range of 3,100nm (5,740 km) and can seat up to 230 passengers. It is equipped with a pair of CFM International LEAP-1B turbofan engines designed to reduce carbon emissions and noise.
The aircraft type remains in certification testing, with Boeing saying it plans to deliver the first of the variant in 2023. But the company faces uncertainty about certification due to a pending regulatory requirement, set to take effect in December, which mandates newly certificated aircraft to have a modern pilot alerting system – something the Max 10 lacks.
Calgary-based WestJet operates an all-Boeing fleet of more than 100 aircraft, including 737 Max 8s, 737 NGs and 787 Dreamliners.