Lufthansa Group is ordering 15 more Airbus A350s, including its first -1000s, and seven additional Boeing 787s for delivery from the middle of this decade.
In addition to these 22 aircraft, Lufthansa says it is also in advanced negotiations to acquire further long-haul aircraft "which could be made available at shorter notice".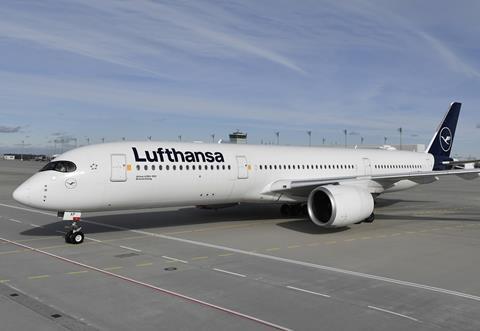 The group approved the order at a supervisory board meeting today. The commitment covers 10 A350-1000s as well as five more -900s. The group already operates 21 A350-900s and the additional commitment means it has 33 more -900s to come.
Lufthansa last summer took delivery of the first 32 787-9s it has on order from Boeing, and has since taken two more. Today's commitment takes to 39 the number of Dreamliners Lufthansa intends to operate.
Lufthansa Group chief executive Carsten Spohr says: "With our purchase of 22 further Airbus A350s and Boeing 787s, we have secured the delivery of more than 50 latest-generation long-haul aircraft for the member airlines of the Lufthansa Group since the pandemic began."
The aircraft will be equipped with the carrier's new "Allegris" long-haul product, which it unveiled on 28 February. "These highly advanced aircraft and our latest seating product on board will position our airlines well to the fore again within the premium segment," says Spohr
Today's commitment, together with its order for Boeing 777-9s, deliveries of which are due in 2025, takes to 108 the number long-haul aircraft the group will receive in the coming years. These will be used to replace six sub-fleets "in the medium-term future", including four-engined 747-400s, A340-600s and -300s, and twin-engined 777-200s, 767-300s and A330-200s.