Singapore Airlines Group has reached an agreement with Airbus regarding aircraft deliveries and payment deferrals, as it reported a massive quarterly operating loss.
The group, which comprises mainline carrier SIA, regional arm SilkAir, as well as low-cost unit Scoot — says it has reached an agreement with Airbus on "some of these matters", but did not elaborate. It adds that similar discussions with Boeing are ongoing.
For the quarter ended 30 June, the SIA group reported an operating loss of S$1.04 billion ($756 million), a tremendous reversal of the S$200 million profit it made for the same period last year.
Revenue for the period fell nearly 80% year on year to S$851 million. SIA says the plunge in passenger traffic during the period meant a sharp decrease in passenger revenue. However, it notes that this was offset partially by an uptick in cargo revenue.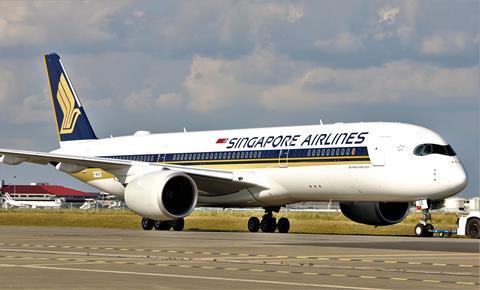 Expenses, meanwhile, saw a 51.6% drop to S$1.89 billion. SIA says this was attributed to lower net fuel cost and non-fuel expenses. Still, fuel hedge-related losses offset the drop in expenses.
"A further downward adjustment to the expected rate of capacity recovery led to a reduction in expected fuel consumption, causing the group to recognise additional ineffective hedges," it notes.
The group reported a net loss of S$1.12 billion for the quarter, reversing the S$111 million quarterly net profit last year.
SIA warned in mid-July of a "material" operating loss for the quarter, and warned of a "slower than initially projected" recovery trajectory from the coronavirus outbreak.
Passenger traffic on the group's three carriers collapsed year on year, as travel demand evaporated.
In June, the group's carriers carried just 17,700 passengers. While this was nearly twice the number handled in May, it remains drastically down on the 3.2 million passengers carried in June 2019.
Traffic, as measured in RPKs, was 99% down on the same month in 2019, while group capacity was cut 95%.
Cirium fleets data indicates that SIA has 19 A350-900s on order and 49 Boeing aircraft on order, comprising 29 787-10s and 20 777-9s. Scoot has 30 A320neos and 16 A321neos, alongside five 787s, on order. Meanwhile, SilkAir has 31 737 Max 8s on order.
SIA's move to defer aircraft deliveries and payment — which it says will "help to moderate fleet growth in the near term" — comes a week after the Cathay Pacific Group announced it will delay aircraft delivery.
Cathay said on 22 July that it will defer delivery of its Airbus aircraft — comprising A350s and A321neos — by up to two years, and is in "advanced negotiations" with Boeing about delaying the delivery of the 777-9 widebody.