SIA Group has utilised half the proceeds from a S$8.8 billion ($6.4 billion) rights issue completed on 5 June.
The company has drawn down a further S$2.2 billion between 15 June and 14 August, in addition to the use of S$2.2 billion previously detailed in June.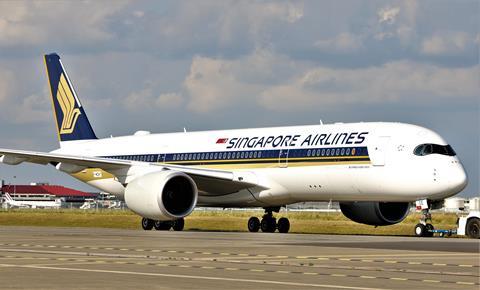 In a 19 August disclosure to the Singapore Exchange (SGX), SIA says that approximately S$1.1 billion was used to fund operating expenses, settle maturing fuel hedging trades, as well as for ticket refunds following the cancellation of flights as border controls and travel restrictions remained in place.
Approximately S$900 million went towards servicing debt, which includes the redemption of SIA Group's 10-year S$500 million fixed-rate notes on 9 July, and the repayment of funds previously drawn under certain lines of credit. Such credit lines continue to be in place as sources of liquidity, the company says.
The remaining amount, about S$200 million, was channelled towards aircraft purchases.
In an earlier update, SIA Group said on 16 June that it utilised about S$200 million for operating expenses and around S$2 billion to repay a bridge loan facility arranged with DBS Bank, which was announced alongside the rights issue.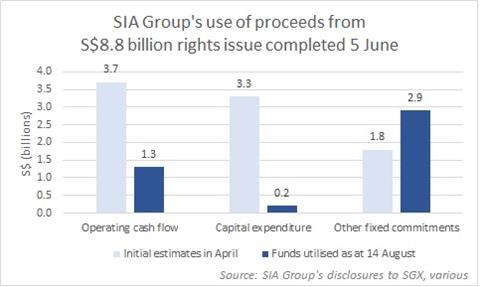 In a clarification to investors, dated 24 April and published as an SGX disclosure, SIA Group said it marked out S$3.7 billion of the proceeds for operating cash flow, S$3.3 billion for capital expenditure, and the remaining S$1.8 billion for other fixed commitments.
The company defined capital expenses as relating to aircraft purchases and aircraft-related payments, while other fixed commitments entail debt service and other contractual payments.