Finnair has unveiled new business-class and premium-economy cabins to be rolled out on the carrier's Airbus A350 and A330 long-haul fleets.
The airline says it is investing €200 million in the revamp which commences this month and will continue for the next two years.
Finnair will also take the opportunity to refresh its economy-class product.
"The pandemic has had a dramatic impact on our industry, but it has not changed our ambition to offer a modern premium experience as we continue to be the first choice for travellers connecting Europe and Asia," says chief executive Topi Manner.
Finnair says the "brand-new concept" for its business-class seat has been developed in co-operation with Collins Aerospace, from a PriestmanGoode conception.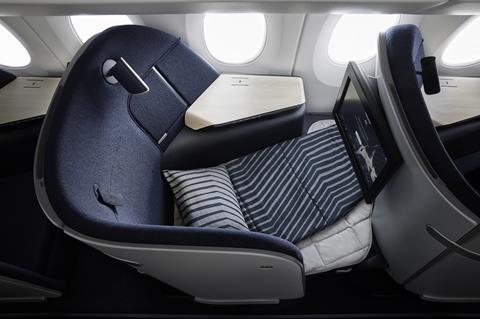 "The unique fixed-shell lounge space enables a wide variety of sitting and sleeping positions, allowing customers to make the space their own during a relaxing long-haul flight," the carrier states.
Finnair head of customer experience product design David Kondo says the airline's idea was to "create more of a residential environment" to emulate home comfort – taking inspiration from lounge furniture, unlike traditional aircraft seats.
"By doing away with complicated seat mechanisms and using 3D curved shells, we're able to provide a larger flexible living space," he adds.
"This allows customers to move more freely and take up different positions which traditional aircraft seats do not allow."
Finnair chief commercial officer Ole Orver says space is a "luxury" and the company has "put a lot of thought and attention" into the detail to create the seat.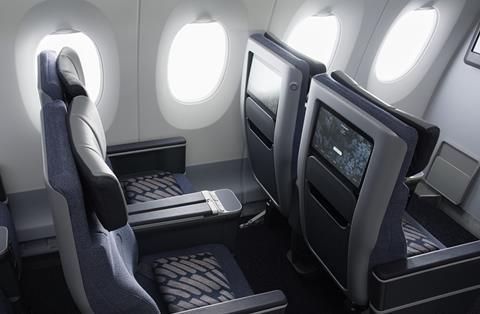 Orver adds that premium-economy seating is a trend which the pandemic has "significantly accelerated".
"We are confident our new premium-economy travel class, with its comfortable seats and more space, will prove very popular with customers looking for an upgraded experience," he says.
Customers for all the cabins will board through a new entry area and refreshment bar.
Finnair's economy-class update will feature new seats and larger in-flight entertainment screens on three A350s and its A330 fleet. Sixteen A350s will have new seat covers and updated in-flight entertainment.