Safran Seats has unveiled two new premium seating concepts at the Aircraft Interiors Expo today, pitched at business-class cabins for widebodies and narrowbodies respectively.
The French company has already secured two airline customers for both its Unity widebody seat and the VUE narrowbody product. Both are expected to enter commercial service in 2023.
The two Unity customers have taken the seat for Airbus A350s, though the seat has been designed so it can be deployed across different widebody types. The two VUE customers are for Airbus and Boeing narrowbodies, respectively.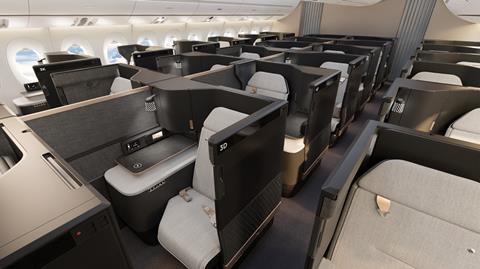 Speaking at a press conference in Hamburg today, Safran Seats president Vincent Mascre said the new products show how the company continued to innovate even through depths of the the Covid crisis, during which the company had to restructure.
"During all that time we continued to mature new concepts and transform them into products. We had the concept of Unity three years ago. Now it is a product," he says.
Mascre highlights the modular design of the new products, enabling them to share commonality across different programmes to help reduce cost, but also to provide a framework from which airlines can customise the product.
"It is a modular platform meaning we can add on the same architecture different storage concepts, with or without doors. We can add different features, but keeping the same backbone," he explains. "In the past we used a bit to reinvent the wheel, programme to programme, which has the risk of cost. So now we try to keep the backbone on which each airline can adjust the features or the way they want to have the space,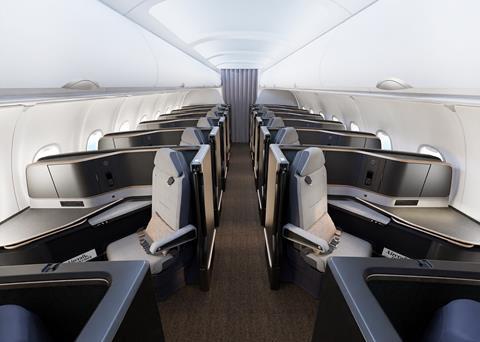 "For the widebody, it [Unity seat] can go from one platform to another without having to reinvent, redesign or recertify everything," he says.
The concepts behind the seats were developed through an innovative internal design challenge across the business. "We had eight teams competing, like a tournament. At each stage there were mock-ups and the best ones went through," Mascre says. Indeed, such was the innovation during the process that the finalist design for a widebody business-class seat has also been selected by a customer.