Ampaire has completed a test flight in Scotland of its Electric EEL technology demonstrator, operating the modified Cessna 337 Skymaster on a 30nm (56km) sortie from Kirkwall in the Orkney Isles to Wick John O'Groats airport on the Scottish mainland.
No details of the flight were immediately available, however.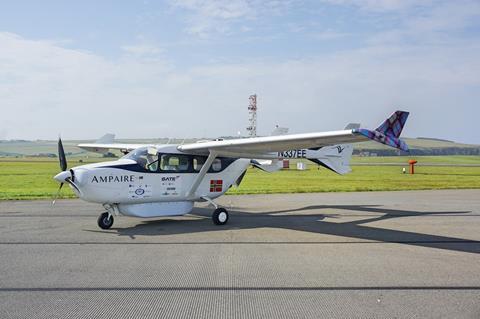 The 12 August mission is part of the Sustainable Aviation Test Environment (SATE) project, which is being led by Highlands and Islands Airports, which manages both the Kirkwall and Wick sites.
SATE – funded through the UK government-backed Future Flight Challenge – is based at Kirkwall airport and is designed to test low-carbon aviation technologies, and investigate the airport infrastructure necessary to support their operation. Ampaire and fellow aircraft developers ZeroAvia and Windracers are partners in the SATE consortium.
Ampaire has replaced the Skymaster's rear combustion engine, which is in a pusher configuration, with an electric motor and battery system, while retaining the forward-facing piston powerplant. It claims the parallel hybrid architecture reduces fuel consumption by 50-70%, although passenger seating is also cut from five to three people.
Based in California, Ampaire has a UK subsidiary which it set up in 2018, although the company remained dormant for the first year of its existence.
Separately, Ampaire is leading another consortium, 2ZERO, which will perform test flights of the Electric EEL in southwest England. A subsequent phase will see it operate a hybridised Viking Air DHC-6 Twin Otter in the UK, an aircraft it dubs the Eco Otter SX.
It has received a £2.4 million ($3.3 million) grant for the effort via the Future Flight Challenge.
Previously, Ampaire has flown the Electric EEL exclusively in the USA, including a 300nm sortie in California last October.