A succession of mergers, acquisitions and divestments by aerospace's biggest players slid to a stop with the onset of the pandemic in early 2020.
The mega-union of industry behemoths United Technologies and Raytheon was completed in April 2020, just as the crisis was taking hold. However, after almost 18 months of relative inactivity on the M&A front, the past few months have seen a flurry of fresh moves. With investor confidence returning, this momentum could continue into 2022.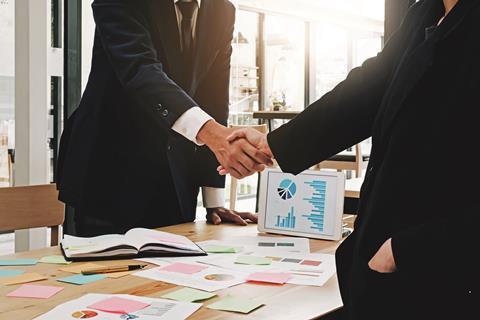 The pick-up in air travel in mid-2021 appears to have spurred deal-makers into action. In August, US firm Parker Hannifin launched a £6.3 billion ($8.4 billion) swoop for UK rival Meggitt, a major supplier to both defence and commercial aircraft manufacturers. While Meggitt's board accepted the offer over a rival bid by TransDigm, it is now the subject of an investigation by the UK's competition authority, which is not expected to make its decision for several months.
COMPETITION TIME
August also saw a recently privatised Cobham switch from a series of divestments to bid £2.6 billion for fellow UK defence outfit Ultra Electronics. That is also being examined by the UK's Competition and Markets Authority, which is due to make its report to the business secretary by mid-January. Cobham, founded in 1934 and one of the UK's oldest aerospace companies, had itself been taken over by US private equity house Advent just before the pandemic.
The commercial aviation downturn, coupled with programme-related troubles at major customer Boeing, was one of the reasons a beleaguered Spirit AeroSystems called off its long-delayed acquisition of Asco in August 2020. However, in September 2021, the privately-owned Belgian aerostructures supplier was bought by Montana Aerospace – a Swiss-based manufacturer of components and assemblies, which also has operations in Austria.
Fellow European aerostructures manufacturer Latecoere is also in acquisitive mood, buying two companies in the last five months of 2021. It followed its purchase of Belgian rods and struts specialist TAC from Searchlight Capital Partners in August with the takeover of Mexico's SDM from Avantus Aerospace a month later. Toulouse-based Latecoere, whose biggest customer is Airbus, brought in new capital from shareholders in August.
Collins – now part of the giant Raytheon Technologies formed in April 2020 – has continued to make tactical acquisitions during the past few months, buying FlightAware, a private company providing flight-tracking and data-analytics technologies, in August.
Three months later, Collins purchased DTC, a Dutch company that specialises in structural thermoplastic components, noting that it was part of a strategy to develop advanced materials to drive down aircraft weight.
The world of in-flight entertainment and connectivity also witnessed a major merger, with Viasat in November agreeing to acquire rival Imarsat in a $73 billion deal. While the two companies' satellite and terrestrial systems provide services to a range of industries, in-flight broadband connectivity is a growing market and this move could herald further consolidation in a fragmented sector. In December 2020, Intelsat purchased competitor Gogo's commercial aviation business.
Another burgeoning segment – though still one to produce any certificated products or make any revenue – is urban air mobility, where electrically-powered aircraft will provide personal transport or air taxi services in cities. In the past year, a clutch of developers considered to have the best chances of successfully taking their concepts to market have begun to emerge from the many dozens of start-ups in this space.
SPECIAL ONES
Three of them, Archer Aviation, Joby, and Lilium, have in recent months gained access to the capital markets after being bought by so-called special purpose acquisition companies or SPACs – listed companies set up with the sole purpose of purchasing innovative technology firms in need of funding and taking them public. If this leads to any of them rapidly accelerating their projects towards certification, then 2022 could see much more SPAC activity in this area.
With both big airframers looking to ramp up output in 2022, worries persist about the vulnerability of a supply chain that has, in many cases, lacked the deep pockets to see it through the crisis and is now being asked to invest in personnel and equipment. More consolidation is almost certain as owners of cash-strapped smaller companies, despite secure positions on programmes, look to reduce their risk by combining with a larger and better-funded competitor.
Collins managers admit that combining that business and engine maker Pratt & Whitney with defence-focused Raytheon helped them ride out the challenges of 2020/2021. While another merger of that scale is unlikely any time soon, the logic of bringing defence and commercial entities under one roof remains intact. Could this coming year also see merger moves shelved by the crisis revived – such as that of first-tier suppliers Hexcel and Woodward, called off in April 2020?
One thing is certain. A repowered aviation and aerospace industry means M&A lawyers are unlikely to be short of work in 2022.