As 2022 opens, Boeing seemingly sits on the cusp of bringing two aircraft programmes back to health following protracted struggles, and possibly of closing in on the launch of its next new aircraft programme.
Boeing might have been expected to have turned its ship to the proper course in 2021. Instead, a 787 delivery halt, China's holdout on re-certification of the 737 Max and fresh delays to the 777X development plan – oh, and the pandemic – marred the year.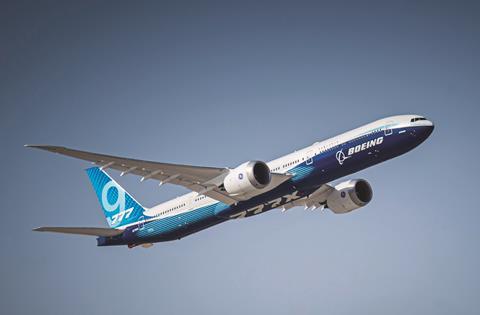 True, Boeing made progress, delivering more than 200 737 Max and turning order-positive – meaning new orders outpaced cancellations. Also, in December, China's civil aviation regulator issued an airworthiness directive clearing the way for the Max's return to flight. But 2021 brought little in the way of a significant turnaround for the embattled airframer.
Which is why 2022 opens with such promise.
Michel Merluzeau, aerospace analyst with consultancy AIR, thinks 2022 could be "the first year of the great rebuilding of The Boeing Company".
AIRBUS BATTLE
"They need to stabilise and start trending on the growth plan again," he says. "I would like to see some level of initiative in 2022."
"They've got to start working on a new mid-market single-aisle jet that keeps Airbus from running away with 10 points of market share," says another aerospace analyst, Richard Aboulafia with Teal Group.
Aboulafia thinks a jet launch is just what Boeing needs; it would tell "the world that they are still in business as a jet maker with a long-term future".
Analysts believe Boeing must strike back against Airbus, countering gains made by the European airframer amid the 737 Max crisis and ensuing pandemic. Specifically, they point to the runaway success of the A321neo, including longer-range variants that have proved wildly popular.
A321neos have both range and seat-count advantages over the 737 Max. The Airbus jet can seat 180-220 passengers in two classes; range is 4,000nm (7,400km). Airbus is developing the 4,700nm-range A321XLR variant, for service entry in 2023.
By comparison, Boeing's largest Max – the in-development Max 10 – will carry 188-204 passengers in two classes and have 3,300nm range. The in-development Max 7 will have more range – 3,850nm – and carry 138-153 passengers. Boeing aims to begin delivering Max 7s in 2022, followed in 2023 by Max 10s. The 162-178-seat Max 8 and 178-193-seat Max 9 are already in service; both those variants have 3,550nm range, according to Boeing.
How or when Boeing will strike next remains a mystery, though chief executive David Calhoun has said the airframer has a plan.
Merluzeau thinks Boeing might, in 2022, pull the trigger on development of a freighter version of the 777X, a move Calhoun has suggested is on the cards. Boeing could possibly also inject energy into the 787 programme by launching a new variant optimised for shorter regional routes, Merluzeau adds.
BEYOND THE MAX
An overarching question, however, remains: when will Boeing launch its 737 replacement? Analysts widely expect the company will develop that jet for service entry next decade. Merluzeau doubts Boeing will launch a new narrowbody in 2022 – but it could in 2023, starting with a mid-market jet to counter the A321neo.
The aircraft will probably have plus-4,000nm of range, wings made from composite material and a traditional metal fuselage. (He doubts composite fuselage manufacturing techniques will be adequately advanced to support the high rates at which Boeing will need to produce the next narrowbody.) Merluzeau thinks the jet could be first "in a family of aircraft that will eventually replace the Max".
Potential product launches aside, Boeing's top tasks in 2022 must be returning its 787 and 737 Max programmes to health, supporting the supply chain and keeping 777-9 development on track.
"They've got to get more 737s out the door, either through new-build or through deliveries of already-built jets," says Aboulafia. "They've got to clear up the 787 production mess – with customers, regulators and on the shop floor."
Boeing has been manufacturing about 19 737s monthly and intends to ramp up the rate to 31 jets monthly by early 2022 – a move Merluzeau describes as critical to keeping suppliers healthy. Those companies have struggled amid the Max grounding and subsequent pandemic. "That supply chain needs those [production] rates to go up. If that doesn't happen… we are going to see an increasing number" of companies failing or being acquired, he says.
The US Federal Aviation Administration (FAA) lifted the Max's 20-month grounding in November 2020. Many countries followed, but China's regulator held out until late 2021. Boeing had said China's clearance will determine its ability to deliver some 450 Max it accumulated in inventory amid the grounding.
In late 2020, Boeing executives said they planned to deliver half those 450 jets in 2021 and the majority of the rest in 2022.
But progress seems slower than planned.
On 27 October, chief financial officer Brian West said the inventory stood at 370 Max and that Boeing expected to deliver "most" by the end of 2023.
SUMMER SALES
Financial analysts responded to West's comments with predictions that Boeing will probably still hold a sizeable inventory of stored Max aircraft in 2024.
Merluzeau suspects the pace at which Boeing will deliver the Max might be slow in the first half of 2022 – a result of required rework and the impact of winter weather. But he suspects delivery rates will "really improve" by summer, when Boeing will "get a heck of a lot more Max out the door".
"There is light at the end of the tunnel with the 737 Max," Merluzeau adds, noting that ramping deliveries will provide Boeing much-needed cash.
So, too, will Boeing's resumption of 787 deliveries, a milestone analysts expect in 2022. The airframer stopped handing over the widebodies between October 2020 and March 2021, then again in May, amid a series of manufacturing-quality problems.
Boeing has shied from predicting when 787 deliveries might resume, noting it needs FAA approval. The agency must greenlight rework and inspection techniques related to fuselage issues affecting undelivered 787s.
"You have an environment that is very much in the hands of external elements," says Merluzeau.
With deliveries held up, Boeing has accumulated an inventory of more than 100 787s, the company has said. Financial firm Jefferies anticipates Boeing will still be clearing that inventory beyond 2024.
Boeing's progress in achieving certification for its 777-9 also depends significantly on the FAA. In 2021, the FAA, under intense scrutiny following the 737 Max disasters, requested from Boeing more information and analyses related to certain 777-9 systems. Its letter said the 777-9's "type certification date is realistically going to be mid- to late-2023".
In 2021, Calhoun insisted Boeing was on track to deliver the first 777-9 in "late 2023", though customer Emirates chief executive Tim Clark has expressed doubt. Some analysts, including Bank of America's Ron Epstein, suspect service entry will slip to 2024.