US business jet operator NetJets has secured rights to buy up to 150 electric air taxis from start-up German aircraft developer Lilium Air Mobility.
The rights come as part of a broader arrangement between the companies that also calls for NetJets to support a Lilium-planned Florida-based air taxi operation, Lilium and NetJets say on 8 March.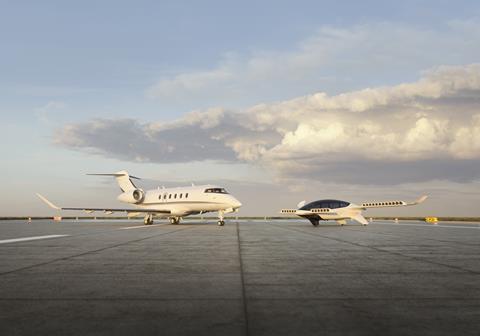 Many details remain unclear, including when NetJets might possibly take delivery of Lilium's in-development aircraft, called Lilium Jet. The companies did not respond to a request for more information.
The deal, detailed in a memorandum of understanding, could give NetJets a foothold in the burgeoning but still-unproven air taxi market. It also envisions NetJets bringing air taxis into its fractional aircraft ownership programme, Ohio-based NetJets says.
Lilium aims to have Lilium Jet, a six-passenger electric vertical take-off and landing (eVTOL) aircraft, in service by 2024. The air taxi will have 135nm (249km) of range, cruise at 152kt (282km/h) and cost about $2.5 million, according to securities documents filed with US regulators by Lilium last year.
Lilium became a publicly traded company in September 2021 when it closed a merger with a shell company called Qell Acquisition.
In recent years, Lilium has promoted a plan to develop an air taxi hub near Orlando. NetJets has now agreed to "provide operations support" to that project, though details remain unclear.
Lilium says the companies will "explore a business model for the operation of Lilium's network in Florida, as well as [in] other regions in the US, and Europe".
The German developer also views its NetJets partnership as a means of landing more sales, saying NetJets will support "Lilium with a private sales campaign for individuals to purchase Lilium aircraft".
Also on 8 March, Lilium disclosed a partnership with US flight training company FlightSafety International. That company will "provide products and services, such as course ware, industry leading immersive and mixed-reality training devices, and crew training to support Lilium Jet operations", Lilium says.