Viasat and Inmarsat are "ready to be one family" following the long-awaited completion of the former's acquisition of its rival, and are working on a 100-day timeline to integrate the two firms into one mammoth-sized satellite communications provider.
Speaking exclusively to Flight Daily News ahead of the Aircraft Interiors Expo 2023, Viasat's chief commercial officer for global mobility, Meherwan Polad, and Inmarsat president aviation Niels Steenstrup said it had been "a long 18 months" between initially announcing the planned transaction and finally sealing the deal on 31 May.
"We couldn't engage with each other until last Wednesday," says Steenstrup, meaning that many decisions on how the combined entity will operate are only now being taken.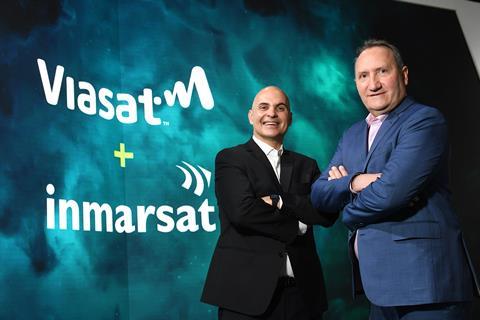 California-based Viasat and UK-based Inmarsat remained fierce rivals in the in-flight connectivity market while the proposed acquisition was scrutinised by regulators. They are now frantically "working on a 100-day timeline for integration", adds Steenstrup.
Updates on Viasat's leadership team will be provided during that 100-day period, although the company has confirmed that it will continue to be led by Mark Dankberg as chairman and chief executive and Guru Gowrappan as president.
In the near term, for existing airline customers it will be "business as usual" with "the same great service" from Viasat's IFC solution and Inmarsat's GX Aviation service, says Steenstrup.
"Over time, they will get something better than either," he promises. Between them, Viasat and Inmarsat have 19 satellites in space spanning Ka-, S- and L-bands, with 10 more coming on stream. They have more than 60 airline customers and their systems are installed on more than 3,000 aircraft.
"Our focus is to use all those satellites and all networks," says Polad, adding that airlines should "watch this space" for further details on solutions, which are expected to be clarified "shortly".
Viasat's aim is to ensure the process of making aircraft that are already equipped with the two companies' individual IFC systems compatible with the newly-combined entity's assets is seamless.
"What they have [installed] is going to continue to operate and we're going to do everything to make sure the path to upgrades and combined networks is as simple and seamless as possible," notes Steenstrup.
He emphasises that Inmarsat's GX distribution partners "shouldn't be worried" by the London-headquartered firm's takeover by Viasat, which sells its IFC solution directly to airlines, noting that "we're tight with our partners".
News of the acquisition has been "extremely well-received" by existing airline customers, says Polad. He adds that airlines have "asked multiple times" in the past if the two satellite companies could combine their assets.
All IFC services going forward will be branded as Viasat.