Multi-orbit satellite technology and the march towards free onboard wi-fi will be key talking points at this year's Aircraft Interiors Expo (AIX) in Hamburg.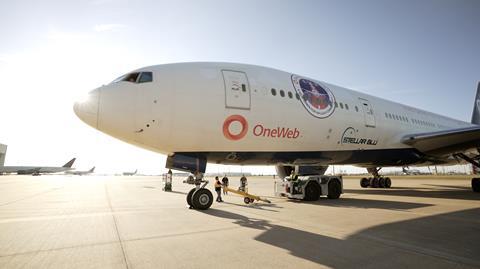 The imminent launch of low-Earth orbit (LEO) in-flight connectivity services from the likes of OneWeb and SpaceX, and the reverberations of Delta Air Lines' announcement that it will offer complimentary fleet-wide wi-fi to all passengers by the end of 2024 are expected to be hot topics.
SpaceX has signed up a handful of airline customers for its upcoming Starlink Aviation LEO satellite-based IFC service. These include Hawaiian Airlines and Air Baltic, both of which have said they plan to begin installing the system on their aircraft this year, pending certification. SpaceX's rival OneWeb, meanwhile, is targeting an early 2024 start date for its LEO IFC service, and has been busy preparing the market for its debut.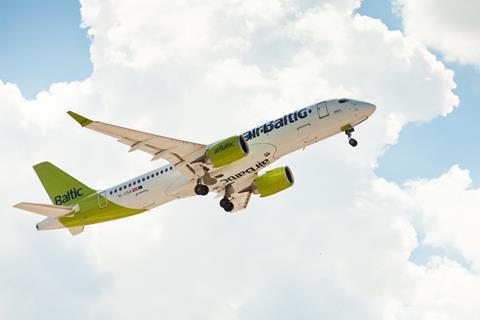 "A lot of what we've done since last AIX is galvanise relationships with airlines, ensure we do the education piece so that when our distribution partners come to them they already have a base level of understanding of what OneWeb is, how to buy it and whether they might want LEO-only or whether they think LEO/GEO might be a good solution," says OneWeb vice-president mobility services Ben Griffin.
One of OneWeb's distribution partners, geostationary (GEO) satellite company Intelsat, signed an agreement with Alaska Airlines earlier this year to install its multi-orbit electronically steered array (ESA) antenna on the Embraer 175s operated by its Horizon Air and SkyWest regional units. The antenna will communicate with both Intelsat's GEO and OneWeb's LEO satellites.
Alaska Airlines says that the "unique combination of using both LEO and GEO satellites enables higher speeds and more coverage, particularly across remote areas in the state of Alaska".
BURNING ISSUE
The deal with Alaska Airlines is "just the beginning of the ESA era for IFC", according to Intelsat senior vice-president commercial aviation Dave Bijur. Intelsat's ESA antenna weighs 41kg (90lb) and is 10.1cm (4in) tall, which Bijur expects will be a strong selling point for airlines seeking to reduce weight, drag and fuel burn.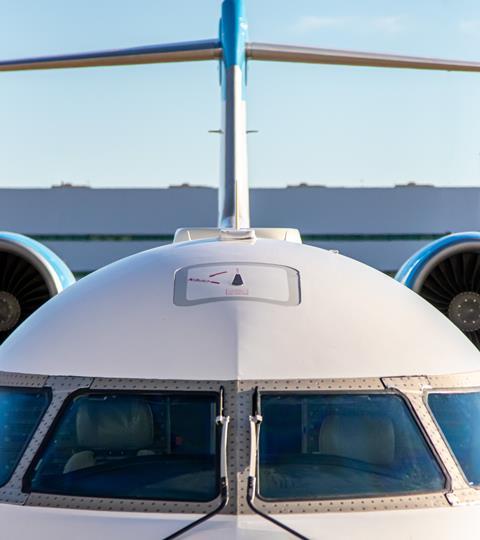 "I think there are two groups of airlines: one that's interested in this because it's GEO and LEO and it offers polar coverage which, up until now, has not been a thing; and then there's a whole other angle, which is airlines are trying to reduce carbon emissions and spend less on fuel," he says. "By creating a very small, lightweight antenna, we're helping airlines achieve their carbon emissions goals while also giving them a nice package for connectivity."
IFEC provider Anuvu, formerly known as Global Eagle Entertainment, is also preparing for a multi-orbit future. The company has traditionally provided Ku-band IFC to airlines by leasing capacity from various GEO satellite operators. Last year, Anuvu signed a capacity agreement with Telesat to eventually offer IFC services using the Canadian company's upcoming Lightspeed LEO network. It is also open to the idea of working with other LEO partners.
Additionally, Anuvu has invested in its own satellite constellation, in partnership with Astranis, and plans to launch its first two MicroGEO satellites later this year.
"Our future is a hybrid network operation where we're using both GEO satellites and LEO satellites, and we are 1,000% believers in that future," says Mike Pigott, executive vice-president connectivity at Anuvu. "We believe that is the future state for the next five to 10 years for in-flight connectivity, but we're not there yet. We're in a GEO-only world today and so our 'bridge to LEO' concept is how we can best serve our customers and get them to that hybrid network future."
Earlier this year, Anuvu signed a reseller agreement with SpaceX to provide its Starlink LEO connectivity service to the maritime sector. On the aviation side, Pigott says that Anuvu is "continuing our engagement with Telesat and with others in the market", noting: "We have an eyes wide open view of how LEO can be incorporated into various markets and it's not an exclusive view with any LEO operator today, just like it has not been an exclusive view with any GEO operator."
SES, which delivers Ku-band satellite services to airlines indirectly through various internet service providers such as Panasonic Avionics and Anuvu, is also building a combined medium-Earth orbit (MEO)/GEO Ka-band service.
"If you look at Ku, more than 60% of aircraft fly over our capacity so we are quite a force, but we are behind these guys so you don't hear about us," says Aditya Chatterjee, senior vice-president of aero market solutions at SES. On the Ka-band side, the company's SES-17 high throughput satellite over the Americas powers Thales's FlytLive in-flight connectivity service, which counts Spirit Airlines as a customer.
SATELLITE CONSTELLATION
SES is also building a MEO satellite constellation known as O3b mPOWER, which Chatterjee expects will play "a major part" in the mobility market.
"We are focusing on creating a global Ka network along with our partners. This GEO network would be overlaid by mPOWER, which is MEO," he explains. "We will be the first to provide a global Ka multi-orbit constellation for an IFC network." SES has focused on MEO "from day one" and sees medium-Earth orbit satellites as "more efficient" than LEO, adds Chatterjee.
Alongside discussions about multi-orbit satellite IFC options and the new generation of antennas that will support them, the subject of how airlines can move towards a free onboard wi-fi model will likely be a feature at this year's AIX. It follows Delta's announcement in January that it will become the first major US network carrier to introduce complimentary wi-fi for all.
As of 1 February, most of Delta's domestic mainline Viasat-equipped aircraft offered free wi-fi to passengers who signed up to join the airline's SkyMiles loyalty programme. Delta will also bring free wi-fi to all of its international and regional aircraft by the end of 2024, through its partnership with T-Mobile.
Viasat confirmed in mid-March that it had also been selected to install its IFC solution on all of Delta's international widebody aircraft, replacing the carrier's incumbent provider, Intelsat. This will bring the total number of Delta aircraft equipped with Viasat's system to more than 1,000.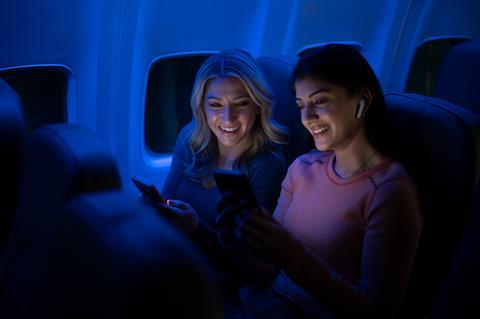 The California-based satellite company, which is in the process of attempting to acquire UK-based rival Inmarsat, has been "banking on" and preparing for the high demands that will be placed on in-flight bandwidth when airlines start to offer it free-of-charge to passengers more widely, says Viasat vice-president commercial aviation Don Buchman. Viasat also provides IFC services to JetBlue Airways, which has given free wi-fi to its passengers for about a decade.
"That's why we're investing in ViaSat-3 and that's why it's got so many clever artefacts in it – not only a terabit of capacity, but it also allows us to be very agile in how we move it to make sure we never run out in places where there's high demand," says Buchman. "If we continue this mission and the market keeps doing what it is then I think we're going to generate a lot of value for our airline customers and their passengers."
Viasat is in the process of launching three satellites to complete its ViaSat-3 constellation. The first two, covering the Americas and Europe, Middle East and Africa, are launching this year and the final satellite is due to launch over the Asia-Pacific region in 2024, at which point Viasat will offer global coverage.
Delta's transition to a free wi-fi model is expected to ignite discussion around how airlines can monetise IFC and make this strategy work. However, IFC experts do not expect a mass, overnight move to a free model. Instead, varying degrees of paid-for and free models are likely to evolve, depending on the size, budget and target market of each operator.
Nevertheless, as more airlines do start to offer free, streaming-capable IFC, it could have an impact on the traditional in-flight entertainment content model.
"One of the things that we've noted, particularly with Delta, is they're reaching out and getting their own content and bringing it to the passenger. They're doing that because they've got streaming quality so they can allow passengers to stream what they want and also what their partners provide, as opposed to the traditional content model," says Daniel Welch, co-founder and senior research consultant at Valour Consultancy.
"I'm not saying that IFE is dead, but it's certainly under threat from that transition to free because passengers are then free to do what they want."
As free in-flight wi-fi opens up, adds Welch, "the value of the content comes into question". Content vendors, therefore, are starting to shift from IFE into digital services.
"I think that's in recognition of the fact that content alone isn't going to be as appetising going forward, so they need to shift into 'how can we provide services around the connectivity pipe that are useful to the airline'," says Welch.
Long-range narrowbodies reignite seatback versus BYOD debate
Next-generation long-range narrowbodies are not only opening up new route opportunities for single-aisle aircraft, they are also reopening the debate over whether to install seatback in-flight entertainment systems or adopt a bring-your-own device (BYOD) strategy.
Deploying aircraft such as the Airbus A321LR and upcoming A321XLR on routes traditionally operated by twin-aisle aircraft has obvious efficiency benefits for airlines. Further efficiency gains could be achieved by not installing heavy seatback IFE systems and relying instead on passengers using the in-flight wi-fi to stream entertainment content to their own tablets and smartphones.
While early adopters of long-range narrowbodies such as JetBlue Airways and Aer Lingus – both of which operate transatlantic flights using A321LRs – have opted to install seatback screens for all passengers, there are signs that some carriers are considering a different approach.
Alan McInnes, vice-president of business development at Unum Aircraft Seating, which is developing a lie-flat business-class seat for the long-haul narrowbody market, says he has been surprised to learn that some potential airline customers are thinking about requiring even their premium passengers to use their own devices on board.
"One of the interesting things is that when we approached this project we said we would always have to integrate a third-party IFE solution. That's expected in business class," says McInnes. "What we have found in single-aisle is that some of our potential customers are considering not having a traditional embedded IFE solution, which has been quite interesting and a little bit of a surprise."
EQUIPMENT RETHINK
Advances in in-flight connectivity technology over the last five years have made airlines think again about whether they need "the weight and complexity" of embedded IFE systems, he adds.
"We approached the project thinking every deployment would have IFE, [but] with the single-aisle it may not be as cut and dried," says McInnes. "Airlines can find resilient wireless solutions from any one of the vendors out there, so we are open-minded."
Steve Hadden, vice-president of services and connectivity at Honeywell Aerospace, also sees a trend away from seatback IFE systems on long-haul narrowbodies.
"We're seeing a lot more long-range single-aisle aircraft, [and] the bring-your-own device rather than the seatback in-flight entertainment seems to be the trend," says Hadden. However, he does not think that seatback systems will disappear.
Looking at a phone or tablet on a 2-3h flight on a single-aisle aircraft is one thing, but would this be palatable to passengers on much longer flights? Hadden says it depends on who the airline is targeting.
"As I get older, my eyes need a bigger screen, personally, but it depends on the subsets of the market," he says. "I think you're going to see all models going forward, and I don't think seatbacks are going to disappear, by any means."