Satellite communications company Inmarsat is now selling a series of faster in-flight broadband plans as part of its Jet ConneX service with business partner Satcom Direct.
Inmarsat is rolling out the plans, which will provide data-transfer speeds up to 100Mbps, in response to ever increasing demand by customers for lightning-fast connections, says Melinda Janda, vice-president of commercial strategy for Inmarsat's business and general aviation division.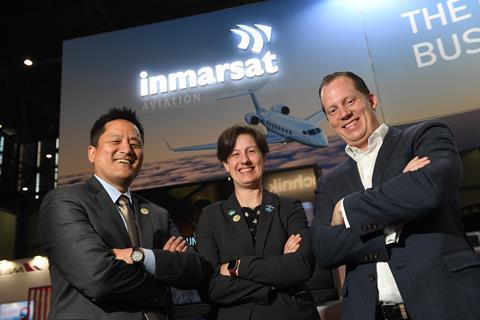 The partners have been flight-testing the technology using a Gulfstream G550 outfitted with Satcom Direct's Plane Simple Ka-band terminal.
They expect to achieve certification of the system in time for the plans to be available in the third quarter of this year, says SatCom Direct chief commercial officer of business aviation and maritime products Michael Skov Christensen.
"The results of our flight testing have been outstanding and we are now close to securing type approval for its use on Inmarsat's global Ka-band satellite network," SatCom Direct president Chris Moore says of the terminal.
In addition to developing tail-mounted antennas and modem units for the service, SatCom Direct has partnered with Inmarsat to distribute airtime.
"These will enable passengers to simultaneously connect more devices and enjoy unchallenged access to the most data-hungry applications, including high-definition video conferencing, without compromising on the service's proven characteristics of consistency, reliability, resilience and seamless global availability," Inmarsat says.
The company launched its Jet ConneX service six years ago. Since then, the product has "earned its reputation as the gold standard for business aviation inflight broadband", says Inmarsat head of business aviation Kai Tang.
"As passenger expectations around connectivity evolve, it is imperative that we stay one step ahead."