German seating specialist Recaro has unveiled its new PL3810 premium class seat and is featuring a new business class cabin concept at this year's Aircraft Interiors Expo in Hamburg.
In addition, the Schwaebisch Hall-based firm is showcasing its numerous smart technology and sustainability initiatives, with the goal of providing the industry with more durable and environmentally-friendly products.
The PL3810 premium class seat, the company says, "sets the benchmark for premium travel", with the "R Horizon" concept featuring a business class seat with integrated smart cabin technology. Both can be experienced and tried first-hand by visitors to the show.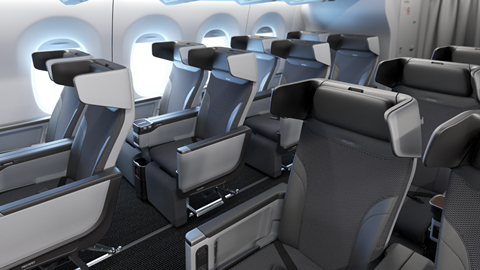 "The PL3810 is the result of comprehensive market and observational research, as well as global trends and our extensive experience as a leading supplier in the premium segment," it says.
Some of the seat's amenities include a single-plate table, a wide centre armrest, six-way adjustable headrest as well as a recline with calf-rest. "Privacy wings" add to the seat's attractions, allowing the passenger to "own their space". It's also got a weight advantage of 10% over its predecessor.
Recaro's R Sphere seat, also on display, has been developed with lightweight, recyclable materials including cork, wood, fishing nets and cactus.
The company is also presenting the newest version of its Sprint seat – which can be delivered within eight weeks of order. It hasgenerated "significant interest", especially with leasing airlines," Recaro says.
"With each seat order we receive, from economy to business class, Recaro is tasked with helping airlines build a better passenger experience," says chief executive Mark Hiller.