The new year will be critical for gauging progress with the developmental Korea Aerospace Industries (KAI) KF-21/IF-X fighter.
The programme represents South Korea's most ambitious aerospace effort: the creation of an advanced fighter equipped with an indigenous active electronically scanned array radar, to replace its obsolescent McDonnell Douglas F-4s and Northrop F-5s.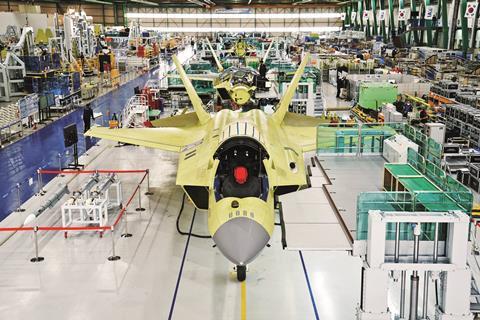 With 120 examples to go to South Korea, and 50 to junior partner Indonesia, Seoul has high hopes that the KF-21 can follow the KT-1 basic trainer and FA-50 light-attack jet in becoming a star defence export. It sees significant potential in the long-term market to replace Lockheed Martin F-16s.
The key milestone in 2022 will be the fighter's maiden flight. For some years, Seoul's Defense Acquisition Program Administration (DAPA) and KAI have been committed to the 2022 first flight, as well as a service entry in 2026.
Powered by two GE Aviation F414s, the KF-21 had a fairly good year in 2021. In April, as planned, the first prototype was rolled out at KAI's Sacheon production facility. Previously known as 'KF-X', the new type was formally designated as the KF-21 Boramae.
IN PIECES
While the fighter looked impressive during the dramatic rollout ceremony, local media reported in June that the prototype had been largely dismantled, including the removal of engines and landing gear.
At that time, DAPA said that the teardown had been planned. Still, this raised questions in South Korea about the type's progress, and concerns that such an extensive teardown was necessary.
KAI, for its part, says the aircraft is now undergoing "ground testing exactly as planned" and that the sixth prototype is in production.
In addition to questions about the jet's maturity, there have also been questions about Indonesia's commitment, as it has fallen behind on payments. For some years, Jakarta had sought to renegotiate its involvement, with Seoul eager to retain its sole foreign partner, both for cost sharing and legitimacy.
In February, DAPA felt compelled to state that Indonesia was still in the programme, after reports in Jakarta quoted air force chief of staff Fadjar Prasetyo saying that the air force plans to obtain 36 Dassault Rafales and eight Boeing F-15EXs by 2024.
Speculation that Indonesia would back out seemed to dissipate at the rollout ceremony, which was attended by Indonesian defence minister Prabowo Subianto.
November saw the successful conclusion of negotiations in Jakarta between Indonesia and South Korea. The parties agreed to maintain the existing cost sharing arrangement, under which Indonesia provides 20% of the W8.8 trillion ($7.5 billion) in development costs for the fighter.
Jakarta, however, appeared to win a concession, in that it can pay some of its share "in kind." This could see South Korea obtain additional Airbus Defence & Space CN235 tactical transports, which Indonesian Aerospace builds under licence in Bandung. In 2018, a source told FlightGlobal that Jakarta was pursuing such an arrangement.
Meanwhile, Indonesian engineers have returned to Sacheon to work on the programme, after they were withdrawn in early 2020 in response to the coronavirus pandemic that was then sweeping through the region.
If all goes according to plan, taxi tests will commence in 2022, leading to a first flight. If issues emerge – as is all too common with advanced aircraft programmes – the first flight could be pushed back.
Moreover, 2022 could see Indonesia resume squabbling about costs, particularly as it contemplates the expensive acquisition of new combat aircraft – it has looked at a number of different types. South Korean media reports have also said that the level of technology transfer has been a sore point for Jakarta. And should the KF-21 experience technical delays, Indonesia's enthusiasm could wane.
DOUBLED UP
Longer term, the KF-21's export prospects are open to debate. Originally, KAI had a preference for building a single-engined fighter, for both cost and simplicity. Seoul, however, overruled this, insisting on a twin-engined fighter.
Will air forces, with an eye to operating costs, really want to replace single-engined F-16s with a twin-engined jet? There will also be tough competition from established manufacturers with active production lines.
But before KAI can reach the KF-21's hoped-for export Nirvana, it must get the fighter's flight test campaign under way, as scheduled, in 2022.