ATR has added two new cargo conversion options to its catalogue of external upgrades, further increasing flexibility for operators of the twin-turboprop.
Although the airframer has its own upgrade catalogue, it also promotes options from several partner companies.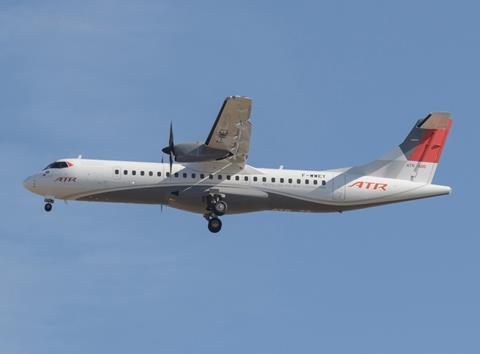 Introduced alongside another eight new options, the freighter modifications are available via French company PMV Engineering, which holds the Design Organization Approval for the changes developed by IPR Modifications (Switzerland).
Of the two, the most significant structural change is the addition of a large cargo door to the forward fuselage to enable the loading of LD3 containers or other larger items.
Applicable to all models of the ATR 42 and 72, the modification is priced at $1.65 million and will take around four to five months to install, the catalogue indicates.
Also available is IPR's passenger-to-freighter conversion for the aircraft's interior, turning the turboprop into a Class E cargo aircraft. This features adjustable vertical nets for bulk freight, allowing flexibility for loading and the positioning of the nets, plus an upgraded smoke detection system, and reinforced cargo flooring.
Also included is the removal of the entire passenger interior for "best-in-class weight saving and operational gains", says ATR; payload for the ATR 42 is 5,610-6,470kg (12,400-14,300lb) while for the larger ATR 72 it is 8,420-8,720kg.
Prices start at $295,000 and the work will take around six weeks to complete.
ATR already offers a cargo conversion option through Toulouse-based AKKA Technologies.
Elsewhere, other new options include SATCOM connectivity for both the cockpit and cabin, air-to-ground cabin connectivity and fuselage protection for unpaved runways and foreign object debris.
ATR will introduce a further revision of the catalogue at the end of 2022 where it will "integrate additional solutions", it says.