A refurbished refinery in Singapore is about to become one of the world's biggest sources of sustainable aviation fuel, with capacity to produce up to 1 million tons per year.
Finnish renewable energy giant Neste, the world's largest producer of the fuel, has completed a €1.6 billion ($1.7 billion) expansion of its multi-purpose plant in the Asian city-state, enabling a tenfold boost in SAF output from the previous 100,000 tons.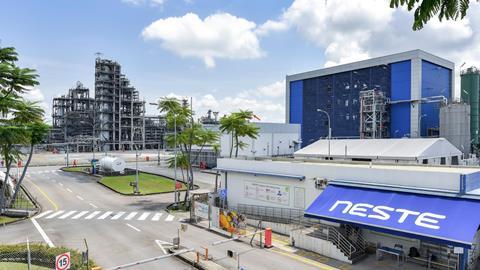 Production will begin within weeks and ramp up in the first half of 2024.
For now, however, very little will flow to Asia Pacific airlines.
Although the plant is well positioned to supply them, many APAC carriers are waiting for their governments to introduce policies which incentivise SAF production and use by driving up demand while bringing prices down.
So most of the Singapore SAF will go to North America or Europe where demand is already high, buoyed by incentives to procure the fuel, escalating SAF-jet fuel blending mandates, or in-house decarbonisation targets of individual airlines.
"There's no shortcut jump to a desired future," says Sami Jauhiainen, the company's vice-president Asia Pacific, and acting executive vice-president of renewable aviation. "You have to start with the fundamentals and policies to create demand and de-risk investments."
And in many Asia-Pacific markets, he says, "we are still missing the ignition."
SAF POLICY CHANGE STARTING
But change is coming across the region, collectively the world's biggest air transport market, sweeping south and east from the Indian subcontinent, through China, north and south Asia, Australia, New Zealand, and South Pacific island nations.
Although APAC countries lag others in embracing SAF, they are increasing their ambitions and committing to or indicating intent to accelerate decarbonisation of their skies.
From 2030, Japan will mandate 10% SAF content in aviation fuel. In addition to imports, local production is progressing via multiple pathways, with strong support from the nation's biggest carriers, Japan Airlines (JAL) and ANA.
New Zealand is also getting active. Its recently-defeated government flagged SAF mandates, and partnered with Air New Zealand to commence trials with two US-based companies, waste-to-fuel start-up Fulcrum BioEnergy and alcohol-to-jet producer LanzaJet.
It is presumed the newly-elected government will progress the SAF plans, as prime minister Christopher Luxon understands the issue better than most. He's a previous chief executive of Air New Zealand.
Singapore, Australia, South Korea, and India are openly contemplating mandates, incentives, or both.
In Singapore, a 20-month SAF trial has just concluded that the country is "operationally ready" to provide the fuel at its Changi hub.
The Civil Aviation Authority of Singapore is finalising a "sustainable air hub blueprint," and developing a "structural offtake mechanism" with options including blending mandates and incentives for production and use.
The Australian Government, in its new Aviation Green Paper, highlighted the potential use of locally sourced and converted feedstocks to produce SAF domestically, and foreshadowed a clear strategy in 2024 when it releases an Aviation White Paper to guide long-term aviation policy.
And the 14-member Association of Asia Pacific Airlines (AAPA) has just endorsed a 5% SAF usage target by 2030.
AIRLINES BUILDING MOMENTUM
Multiple carriers in the region have tested SAF, and increasingly are announcing one-off or longer deals to source and deploy it, while commercial partnerships are evolving to import and locally produce SAF variants, to help ensure fuel security while building self-sufficiency.
JAL operated Japan's first SAF flight back in 2009 using fuel distilled from camelina plants and has since trialled variants produced from feedstocks including woodchips, microalgae, and even 250,000 items of recycled cotton clothing.
Together with carriers including Cathay Pacific, JAL is also an investor in Fulcrum BioEnergy, while Neste partners with Japanese industrial group Itochu to supply neat SAF for local blending and use on international flights from Tokyo.
JAL, Cathay, Qantas, and Malaysia Airlines participate in joint programmes driven by the Oneworld alliance to collectively buy and use SAF.
Korean Air has announced a five-year deal from 2026 to secure SAF from Shell at multiple APAC airports; from 2027, Malaysia Aviation Group will procure 230,000 tonnes from national oil company Petronas; and by 2028, Qantas says it will use up to 400,000 tonnes per year, part of which it wants produced in Australia.
Earlier this year, Qantas also committed $400 million to SAF research, called for a national SAF mandate, and warned of a lost opportunity.
"Creating markets for new fuels is a critical part of tackling climate change," said chief sustainability officer Andrew Parker, with a warning "Without the right policy settings and signals we will see investment, projects and feedstocks move offshore to places with specific policy support."