Embraer is tapping South Korean industry to supply parts for the C-390 Millennium airlifter as part of its bid for Seoul's Large Transport Aircraft (LTA) II requirement.
Agreements have been signed with local companies ASTG, EM Korea, and Kencoa Aerospace – each the subject of a memorandum of understanding (MoU) – "with the objective of strengthening collaboration with Korean defence industry partners for the future supply of parts for the C-390 Millennium aircraft", says Embraer.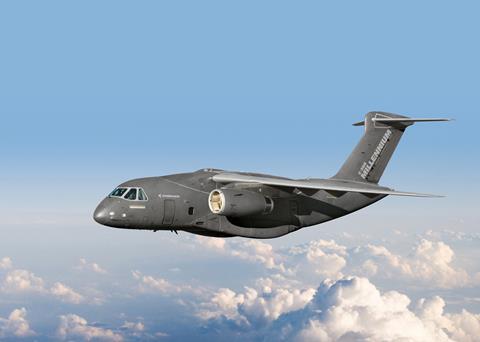 Although Embraer says the "potential supply" of locally built components will "contribute to the offset requirements of the LTA II programme", it sees the collaboration continuing into the future.
"The MoUs intend to create long-term business relationships between the parties which will endure for the LTA II programme and beyond.
"Local industry capabilities can also be part of future developments within Embraer's existing platforms such as the C-390 Millennium as well as new aircraft, vehicles, and systems," it says.
South Korea kicked off the LTA II procurement process earlier this year, allocating W710 billion ($493 million) to the programme. Deliveries are anticipated from 2026 as it seeks to retire the Republic of Korea Air Force's 12-strong fleet of elderly Lockheed Martin C-130Hs.
Besides its Brazilian air force launch customer – which recently trimmed three units from its now 19-strong orderbook – Embraer has won orders for the jet-powered C-390 from Hungary (two), the Netherlands (five) and Portugal (five).

Dominic Perry is deputy editor of Flight International but also contributes extensively to flightglobal.com. Although specialising in the coverage of the helicopter industry, he has written on most topics in aerospace – be they commercial, defence or business aviation. In addition, there has been an increasing focus on the decarbonisation of the industry and zero-emission flight initiatives.
View full Profile