Seoul has approved a plan to upgrade Boeing F-15K 'Slam Eagle' fighters operated by the Republic of Korea Air Force (ROKAF), as well as plans to obtain additional tanker aircraft.
The F-15K performance update project will run from 2024-2034, and see the fighters receive a new active electronically scanned array (AESA) radar, new mission computer, and a new electronic warfare (EW) suite, according to South Korea's Defense Acquisition Program Administration (DAPA).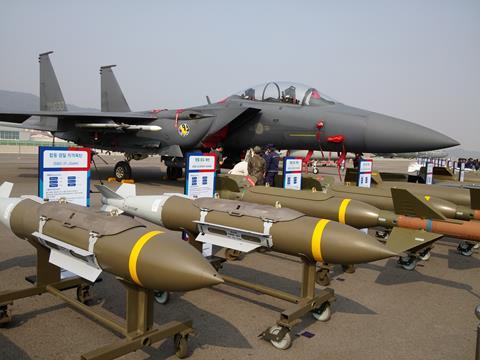 Seoul will allocate W3.46 trillion ($3.8 billion) to the programme and says that buying overseas has been cleared for the upgrade work.
Cirium fleets data shows that the ROKAF operates 59 F-15Ks with an average age of 14.1 years. Seoul received its last pair of F-15Ks in April 2022.
Originally unveiled in 2005, the F-15K is equipped with the electronically-scanned Raytheon APG-63V(1) radar.
While DAPA did not state a new radar type, a clear option is the APG-82(V)1 AESA that equips the new F-15EX.
The F-15EX's Honeywell ADCP-II mission computer – which Boeing claims is the "world's fastest" – and the BAE Systems Eagle Passive Active Warning Survivability System EW kit could also be options for South Korea's F-15Ks.
South Korea is also developing an indigenous AESA radar for the developmental Korea Aerospace Industries KF-21 fighter.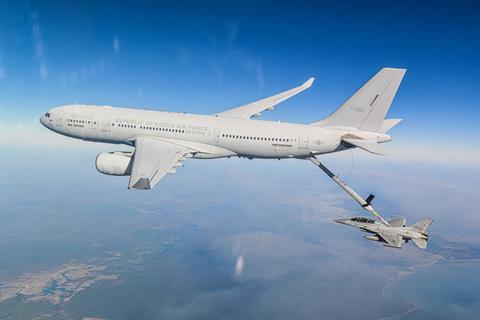 In addition, DAPA has earmarked W1.2 trillion to obtain an unspecified number of new air-to-air refuelling tankers – official news agency Yonhap reports that two tankers will be obtained.
It foresees the new tankers enhancing the range of ROKAF fighters and performing long-distance airlift missions. Moreover, Seoul expects that its international standing among allies will be "greatly enhanced" by additional tanker assets, as it will allow the ROKAF to support long-range missions during peace and war.
Seoul already operates four Airbus Defence & Space A330 multi-role tanker transports with an average age of 4.8 years.