Multiple Polish air force types – including fighters and tactical transports – have taken part in the service's first road-strip landing exercise in 20 years.
Staged from 25-29 September, the 'Route 604' activity was conducted using a section of a provincial road between the towns of Ruskowo and Przezdziek Wielki.
A large number of airport road sections (locally named DOLs), were built in Poland during the Cold War, but the most recent such exercise using one had been staged in 2003.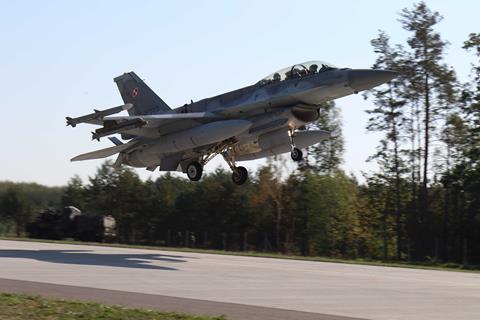 Originally built during the Warsaw Pact era, DOL Wielbark is a 2,480m (8,130ft)-long and 30m-wide runway section on the 604 road. Modernised between April 2020 and September 2021, it serves as a reserve landing site for the military, and could also be used by civilian aircraft in an emergency.
The objective of the Route 604 exercise was to allow Polish air force units to regain the ability to disperse and continue operations in the event of main operating bases being attacked.
On 25 September, the first landings and take-offs were performed, involving Poland's highest-ranking military pilots.
"For several reasons, the commanders landed first. Firstly, it was to show good leadership. I do not want commanders behind desks in the Polish air force," says the service's inspector, Major General Ireneusz Nowak: one of those to have taken part.
"In aviation, you quickly lose contact with what is happening in combat units and it is difficult to make the right decisions when you are only a Powerpoint specialist sitting at your desk in Warsaw," he says. "Secondly, Poland is a country where there are too few experienced military pilots."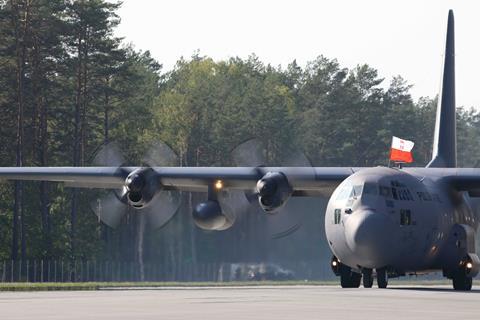 Almost 40 pilots took part in the exercise, with types involved being the Lockheed Martin F-16, RAC MiG-29 and Sukhoi Su-22 combat aircraft, Airbus Defence & Space C295 and Lockheed C-130E transports, and the Leonardo M-346 trainer.
The activity also provided a training opportunity for forward air controllers and short-range air defence system crews, while other supporting elements included a Baykar TB-2 Bayraktar unmanned air vehicle, military police and territorial defence personnel, and special forces soldiers using a Sikorsky S-70i Black Hawk helicopter.
"Conclusions from Ukraine show that permanent air bases will be the first target of attacks," Nowak says, referring to Russia's ongoing conflict with Warsaw's neighbour. "When conducting a defensive operation our air forces must be survivable. This can be achieved by dispersing our aircraft."
Nowak says adopting a so-called Agile Combat Employment strategy would require Poland to have "several dozen" DOLs, dispersed throughout the country. This will require it to modernise existing sites and construct new strips on secondary roads. Warsaw wants such airport road sections to have a length of 2,500m and a 36m width, allowing aircraft to be refuelled and re-armed.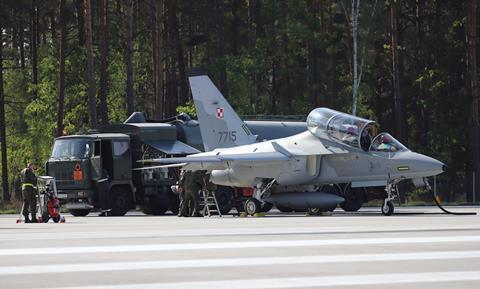 "Our desire is for such exercises to take place every year," Nowak says. "We also want to exchange experiences in this area with other NATO countries," he adds, with allied nations to be invited to participate in future events.
A next exercise of its kind is expected to take place in the spring of 2024, with the aim of also conducting nigh-time operations. Defence minister Mariusz Blaszczak says this activity will also involve the Polish air force's new Korea Aerospace Industries FA-50GF fleet, deliveries of which started earlier this year.