The US Air Force (USAF) has successfully linked simulators for the Lockheed Martin F-35, F-22 and F-16 fighters, as well as the Boeing E-3 Sentry airborne warning and control system, in a virtual combat training event.
Pilots flew in "a highly contested simulated environment" during final acceptance test of the Distributed Mission Training system at Nellis AFB in Nevada, Lockheed Martin said on 1 July.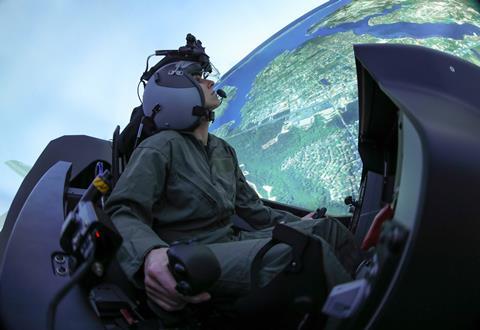 The Distributed Mission Training system was developed by Lockheed in partnership with the F-35 Joint Program Office and the USAF.
In the future, the training network ought to be able to connect to other aircraft simulators, including those for the Boeing F-15 fighter, says Lockheed.
The Distributed Mission Training system is to be used for continuous pilot training and simulated large force exercises of pilots at dispersed locations. In particular, the system is for training pilots on "advanced tactics" needed in multi-domain operations, says Lockheed. That is, the simulator is a cheaper and more easily repeatable way of teaching USAF pilots how to co-ordinate complex missions with virtual compatriots in the US Space Force, US Navy (USN) and US Army.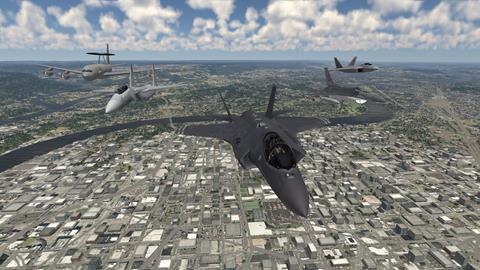 "The initial delivery at Nellis AFB is a major step forward, as it establishes the framework for F-35 simulators around the world to interconnect," says the company. "Previously, F-35 simulators allowed up to four pilots at a facility to fly together in simulated combat. [Distributed Mission Training] links pilots at Nellis AFB to pilots at other bases through an existing distributed network enabling simulated training events with existing 4th generation and 5th generation platforms."
Lockheed plans to install Distributed Mission Training systems at other USAF bases worldwide. The USN is expected to receive the system at NAS Lemoore in California by the end of 2020.