In what is the latest example of the US Air Force (USAF) boosting funding for adversarial training, the service granted a contract to supersonic airliner developer Exosonic to design and build a low-boom supersonic unmanned air vehicle (UAV) prototype.
As the USAF transitions from performing counter-terrorism and counter-insurgency missions toward potential conflict with sophisticated foes such as Russia and China, it is looking for ways to practice high-end aerial combat without breaking the bank. Moscow and Beijing field about 1,500 combat aircraft each, including many advanced fighters, according to Cirium fleets data.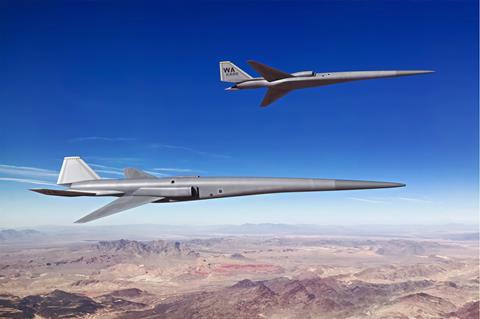 In the short-term, the USAF is spending billions of dollars to contract private companies to field fleets of used third- and fourth-generation fighters, such as the Dassault Mirage F1, that pilots can practice dogfighting against.
In the longer term, the service is investing in high-tech training equipment that it hopes can save money, while improving pilot combat performance. Examples of such next-generation combat training aids include networked ground-based simulators for multiplayer virtual combat training, adversarial UAVs and augmented reality pilot helmets that will project synthetic images of enemy aircraft into the vision of aviators.
For its part, Exosonic was awarded a Small Business Innovation Research contract by the service's AFWERX technology accelerator, the company said on 7 October. The company's supersonic UAV would be used as an adversarial fighter to challenge USAF fighter pilots in live flight training, it says.
"Due to constrained training budgets and a pilot shortage, the USAF cannot efficiently produce new, fully-trained fighter pilots. As a result, a limited number of fighter pilots are receiving the adequate amount of live air training necessary to be prepared to defend our country against near-peer adversaries," says the firm. "Exosonic's supersonic UAV will serve as a mock adversary to stress fighter pilots in live flight training exercises. Equipped with various payloads and sensors, training can be conducted at a fraction of the cost of existing live air training solutions."
Exosonic claims its UAV could save the USAF millions of dollars and reduce wear-and-tear on the service's fleet of fighters, which sometimes have to be pulled away from their primary missions to serve as aggressors.
The supersonic UAV will also be used by Exosonic to test its low supersonic boom technology in flight. The company says the funding, the value of which is undisclosed, will also help finance its supersonic transport development effort.
As the USAF pivots toward so-called great power rivalry with Russia and China, it is emphasising combat training that includes larger numbers of aggressor aircraft. It also wants aggressor aircraft that are more technologically advanced: for example, jets that can fly supersonic or that have stealthy, low radar cross-sections.
In the case of Exosonic, the ability to field UAVs that can fly supersonic, but without the loud noise of a supersonic boom, might enable the service to practice aerial combat against fast-moving jets in a wider expanse of airspace. That is because supersonic flight is outlawed over the USA, with the exception of military ranges, due to the window-shattering noise it creates.
The Pentagon is also eyeing ways to practice aerial combat against stealth fighters. In 2017, the Director of Operational Test and Evaluation funded the development of the Fifth-Generation Aerial Target (5GAT), a UAV designed to mimic the low radar cross-section of adversaries' stealth aircraft, such as Russia's Sukhoi Su-57 and China's Chengdu J-20. The initial 5GAT prototype example was lost in a crash in 2020.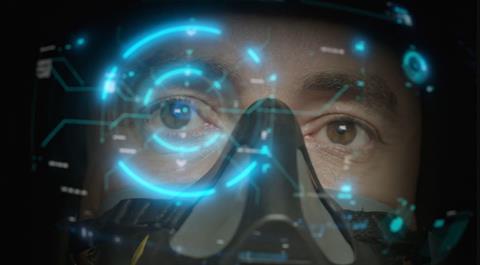 The Department of Defense is working on digital training aids as well. In August, the USAF awarded start-up Red 6 a contract to install its augmented reality headset into multiple Northrop T-38 Talon jet trainers. The company's augmented reality headset is designed to train pilots how to dogfight virtually, while flying in actual trainer or combat aircraft. Adversarial aircraft are synthetic projections in the augmented reality headset. The system is capable of training multiple pilots at once in the same simulation.
And, in 2020, the USAF linked simulators for the Lockheed Martin F-35, F-22 and F-16 fighters, as well as the Boeing E-3 Sentry airborne warning and control system. The "Distributed Mission Training" system is to be used for pilot training as well as simulated large force exercises of pilots at dispersed locations. In particular, the networked simulators are designed to help pilots practice the sort of advanced tactics needed to fight against sophisticated foes.