Updated on 2 December: This article has been changed to reflect new information. Based on information initially provided by Lockheed Martin, the article originally said Royal Air Force and US Air Force F-35 simulators would be connected in 2021. The company now says the date of networking those two air forces' F-35 simulators has not been determined, but that USAF-operated simulators in the USA and the UK will be networked in 2021.
Lockheed Martin plans to connect full-mission simulators in the USA and in the UK at RAF Lakenheath through a software upgrade starting in 2021, allowing US Air Force (USAF) pilots to virtually train with one another across international borders.
The Distributed Mission Training system, which was developed by Lockheed in partnership with the F-35 Joint Program Office and the USAF, allows pilots of several different aircraft types to practice flying together in separate simulators.
The company also says the Royal Air Force's F-35 simulators in the UK are next in line to be connected to the Distributed Mission Training system, an ability which would allow British and American pilots to train together virtually.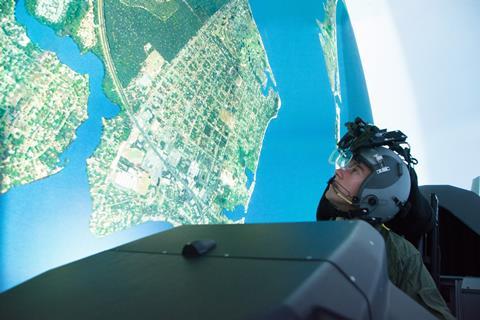 In February, for the first time, the service successfully linked simulators for the Lockheed F-35, F-22 and F-16 fighters, as well as the Boeing E-3 Sentry airborne warning and control system (AWACS) aircraft, in a virtual combat training test at Nellis AFB in Nevada.
Now, the USAF aims to deploy and connect more full-mission simulators. Next year, Lockheed plans to add the Distributed Mission Training system capability to US Navy and US Marine Corps F-35 simulators at NAS Lemoore in central California and US Marine Corps Air Station Miramar in southern California.
"Much like a multiplayer game online, which allows users to play and connect despite the physical distance, [the Distributed Mission Training system] allows pilots to train together in real time," Todd Canterbury, senior manager for Lockheed Martin global sustainment, said on 1 December. "You can have F-35 pilots from Hill [AFB] fly with F-16 pilots from Shaw [AFB], fly with F-22 pilots from Langley [AFB], all being controlled by an AWACS controller in the UK."
Despite thousands of miles between them, Lockheed says simulations should have "negligible" latency. The company also says the connections have been cyber-hardened to prevent eavesdropping by adversaries.
Lockheed says operators of the F-35 are using simulators more and more to train pilots. For example, because the fighter is a single-seat aircraft, and there is not an instructor pilot onboard to help guide a trainee on first flight, simulator practice helps increase safety.
"Back when I first flew this airplane, we required the first sortie just to be a taxi," says Canterbury, a former USAF fighter pilot who went by the call sign "Tales". "The pilots and the maintainers would plan and prepare just as if it were a real sortie. But in the end, we taxi to the runway and taxi back. Entirely unfulfilling."
By training for about 30h on the full-mission simulator, pilot trainees are now able to get airborne on their first sortie in the F-35, he says. "The services are also looking at innovative solutions to get initial qualifications in the jet without using the jet," Canterbury says.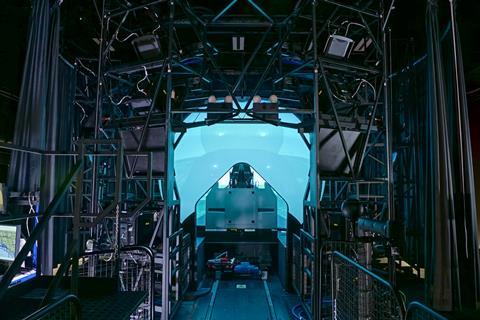 Prior to joining Lockheed in July 2020, Canterbury was commander of the 56th Fighter Wing at Luke AFB in Arizona. He says that during his time with the USAF, about 60% of pilot flight hours were done in real F-35 aircraft and 40% were done in simulators.
"But they're seriously looking at tilting that model on its head and performing more in the simulator than in the live-fly environment," he says.
"Some of the reasons for that is the fifth-generation airplanes we're flying have simply outgrown our fourth-generation ranges. We no longer have the airspace or the detection ranges available to us. We no longer have the ability to fly supersonic at will, as much as we need to with this airplane, these tactics," he says. "Additionally, there's just certain things that we don't want to fly in the open air environment, because we're always under the watchful eye of our adversaries."
Moreover, the USAF's F-35A is enormously expensive to operate – about $44,000 per flight hour, based on one estimate – and so any time that a pilot can spend in a simulator, instead of the actual aircraft, saves money. (For its part, Lockheed says it still believes the cost per flight hour of the F-35A will be reduced to $25,000 by 2025).
Operating costs can quickly pile up when it comes to large scale war games like Red Flag, an advanced aerial combat training exercise that encompasses dozens of aircraft, multiple nations and takes place several times per year at Nellis AFB and at Eielson AFB in Alaska.
"Simulation is ideal for large-scale exercise training, reducing risk and freeing up the actual aircraft," says Lockheed. "With simulation, our goal is to provide a range of potential mission scenarios to prepare pilots and maintainers for what they may face in combat. In addition, virtual training exercises are ideal for scenarios that may be cost prohibitive in the live training environment."