Airbus invented the original widebody twinjet more than half a century ago, so it seems appropriate that a Toulouse product looks set to be the first of the breed to become extinct.
But it is not the original design, the 250-seat A300 that is likely to go first, but the one that followed. Introduced in 1983, the 200-seat A310 signalled the start of Airbus's ambition to create an extended family of aircraft that would become central to its product development and marketing success over the coming decades.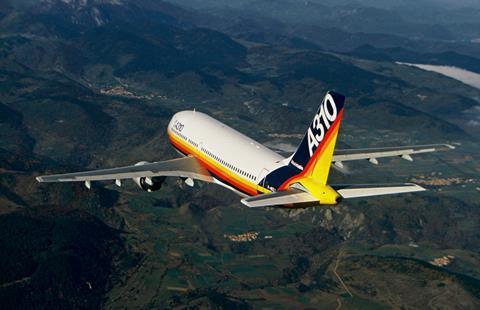 While the retirement of Air Transat's last A310s at the end of March does not warrant an obituary just yet, the type's removal from Canadian skies leaves just seven flying as passenger aircraft, predominantly in Iran. Four more are still flying as freighters and 17 in non-commercial roles.
In sales terms, the A310 could not be classed a huge success, racking up just 255 orders. But the twinjet provided Airbus with a crucial counter to Boeing's me-too widebody twin, the 767-200, as well as the 757 narrowbody, which offered highly competitive economics and flexibility.
Although derived from the A300, the A310 was more than a simple shrink. It featured an advanced wing design and introduced electrical signalling on secondary flight controls.
A key advance that debuted on the A310 was Airbus's first "electronic" flightdeck featuring CRT displays. This design would provide the foundation for the epoch-making A320 flightdeck that arrived five years later and continues to be offered today.
So the A310 may be close to disappearing from airport terminals, but its legacy lives on.