When Spanish flu ravaged the human race at the end of the First World War, it arrived slowly by sea, sparking deadly but largely local outbreaks. A century later, unwitting travelers also granted the Covid-19 virus safe passage from its origins in Wuhan. Only this time – thanks to international air connections – it spread much quicker, turning, within weeks, what had been a domestic public health problem for China into a global crisis.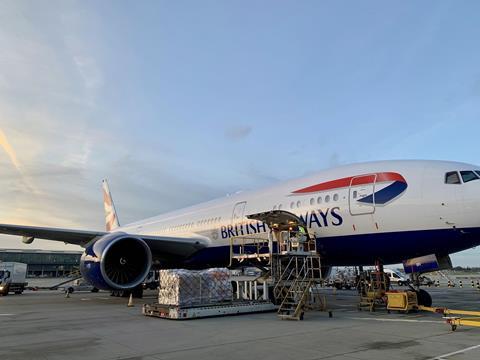 Aviation has paid dearly for its part in the pandemic's transmission, with most international air travel shut down since March 2020. Since then, however, airlines have been in the vanguard of the battle to beat the virus. First it was by transporting urgently needed personal protective equipment, ventilators and other medical goods, often from Asia to Europe and North America. Now they have begun to ship millions of vaccines doses from their place of manufacture around the world.
"Aviation is playing a key role in the distribution of Covid-19 vaccines and will continue to do so throughout 2021," says John Cheetham, chief commercial officer at IAG Cargo, which stated on 7 January that its member airlines including British Airways, Aer Lingus and Iberia had already transported over a million vaccine doses. "When vaccines need to be delivered thousands of miles from their manufacturer at speed, the only solution is air cargo."
The UK beat every other nation in launching an internationally-recognised vaccination programme, when on 8 December 90-year-old Margaret Keenan became the first to receive the Pfizer jab outside a trial. Other countries followed with their own vaccination roll-outs, and by December a number of airlines had launched special vaccine flights, having been gearing up for the moment since vaccine developers began announcing positive results in clinical trials in the third quarter.
National leaders have been quick to exploit the arriving-cavalry symbolism of flights carrying vaccines. On 16 January, Serbian President Aleksandar Vucic shared on social media a photograph of himself at Belgrade airport next to an Air Serbia Airbus A330 with Chinese-made Sinopharm vaccines on board. Israel has been a pace-setter in vaccinating its population and prime minister Benjamin Netanyahu has often been photographed at Tel Aviv's Ben Gurion airport meeting consignments.
In September, IATA chief executive Alexandre de Juniac predicted that the global vaccine distribution challenge would be "the mission of the century" for the air cargo carriers, requiring the equivalent of 8,000 Boeing 747s for all the world's adult population to receive one dose. In November, the association went on to warn that without a fully functioning passenger network, the industry would struggle for the capacity to get vaccines to where they were needed.
Both the suggestion of a rapid vaccine bonanza for the sector – those 8,000 747s would presumably only be needed if every vaccine dose ever required was in the air at once – and warnings of the sector battling to cope may have been hyperbole on the part of IATA. So far at least, the industry appears to have been both well prepared for the effort – including the complicated ultra-cold-chain requirements for the Pfizer vaccine – and comfortably handled the ramp-up.
In November, Richard Forson, chief executive of 747 freighter operator Cargolux, one of the biggest players in the market, dismissed IATA's concerns about a lack of cargo capacity – even for those vaccines requiring extremely low temperatures. Instead, he said, the biggest logistical challenge would be around "final mile" distribution – transporting vaccines by road to their ultimate destination, something that was out of airlines' hands.
In December, HSBC suggested the aviation industry's vaccine distribution challenge was "demanding but not insurmountable". The bank said that, alongside cargo giants DHL, FedEx and UPS, the "super-connectors" of the Gulf and Turkey would also play a key role with their hubs at the crossroads of major distribution flows. So too would Air France-KLM and Lufthansa, which have airport bases and storage facilities close to major vaccine production sites in Belgium and Switzerland.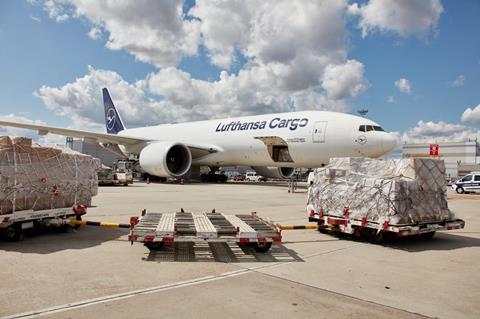 Lufthansa Cargo's chief commercial officer, Dorothea von Boxberg, agrees that the industry, so far, has the challenge under control. "Because much of the manufacturing is in Europe, and much of the export market in Asia and the Middle East, there is often a direct flight," she says. With the Pfizer vaccine, "the game is to have the time between one deep freeze and another as short as possible, and not handling it more than necessary".
While transporting the Pfizer vaccine requires careful execution, she says the airline's long experience with pharmaceuticals means it already had the infrastructure at Frankfurt, Munich and Chicago to handle ultra-cold shipments. "For us, it has been okay, because we have been doing this for years," she says. In January, Lufthansa Cargo launched a product called Covid-19 Temp Premium, which bundles several of its existing ultra-cold transit and real-time tracking services.
IAG Cargo's Cheetham says his business too "benefits from having some of the best cool chain facilities in Europe" and has established relationships with the pharma companies. It says it began planning during summer for the task of moving vaccines at temperatures as low as -70°C (-94°F), and now offers customers a "seamless process which includes tracking and monitoring services to ensure the required temperatures are maintained throughout a flight".
The Gulf carriers, with their reliance on a long-haul global connector strategy, have had some of the industry's sharpest falls in fortunes as a result of Covid-19. However, their geographic position and network reach is likely to work to their advantage when it comes to distributing vaccines. The region too, with its well-funded domestic health services, has launched accelerated vaccine programmes for its own populations, with Dubai beginning to inoculate all Emirates employees from mid-January.
The airline's SkyCargo division says it has had more than two decades' experience in transporting pharmaceuticals on its aircraft and has dedicated storage and handling facilities in Dubai, as well as in over 30 cities in partnership with local airports and ground handlers as part of its "Pharma Corridors" scheme. These include Brussels, close to the main Flanders manufacturing plant for the Pfizer vaccine in Europe.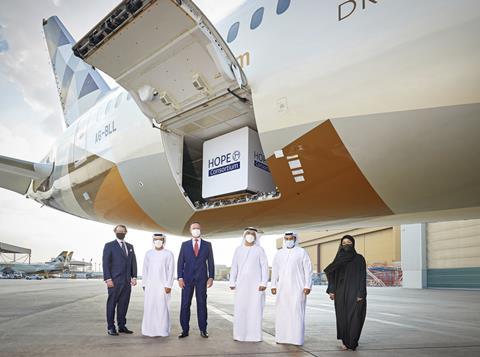 In November, Abu Dhabi launched the Hope Consortium – a grouping of government agencies and private companies, including Etihad Cargo – to create "a complete supply chain solution to address vaccine transport, demand planning and sourcing", and capable of handling six billion doses during 2021. With two thirds of the world population within a 4h flight of the emirate, the United Arab Emirates (UAE) capital is ideal as a "global logistical hub to, and for, the world", says Etihad chief executive Tony Douglas.
In the USA, which began rolling out its Pfizer and Moderna vaccines in December, freight groups FedEx and UPS have been charged with managing domestic distribution, as well as organising international shipments. FedEx chief executive Raj Subramaniam described the effort as "among the most important work in the history of FedEx". UPS says it has been building "expertise and capabilities" in pharmaceutical distribution since setting up a healthcare division 15 years ago.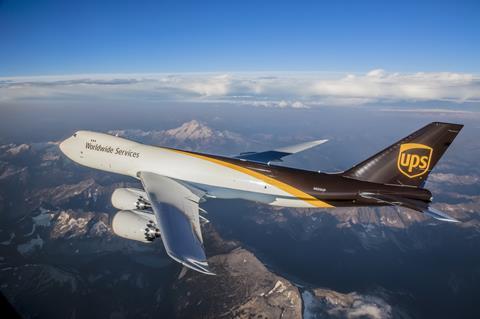 Ensuring vaccines stay at the correct temperature throughout their journey from factory to arm is crucial, and even more so for those, such as the Pfizer jab, that must remain in a deep-frozen state until ready to be injected. This is particularly challenging on board aircraft, whose holds cannot be refrigerated beyond ambient conditions and where shippers rely on special containers that use frozen carbon dioxide – or dry ice – to maintain low temperatures.
With vaccine distribution getting underway in December, Boeing, the European Union Aviation Safety Agency (EASA), and the US Federal Aviation Administration (FAA) warned carriers about adhering to dry-ice shipping guidelines. "In order to transport Covid-19 vaccines, operators may plan to carry dry ice quantities larger than quantities they may carry during typical operations," said the FAA in a safety alert. "This volume of dry ice may present risks that existing mitigations do not adequately address."
The danger is that as dry ice turns to gaseous carbon dioxide during the flight – known as the sublimation process – it can affect the concentration of the gas in the air being breathed by the crew. Normally carbon dioxide makes up about 0.03% of the atmosphere, and the upper limit in a passenger cabin is less than 0.5%. If that figure reaches 5% it will lead to an excessive concentration in the blood, while twice that level will likely cause convulsions, coma and death, maintains EASA.
The European regulator advises that vaccines cooled by dry ice should be carried in the belly compartment if on a passenger jet. If they are transported in main cabins, there should be no passengers. Its guidance also stipulates ensuring that ventilation systems are functioning properly, and that there are diversion scenarios in place, sufficient oxygen is on-board, and carbon dioxide monitors are available.
Boeing says it has "worked proactively" to provide airlines with advice on transporting dry ice, releasing in November new charts for all its types. Airbus too has issued a "service information letter" on transporting greater than usual amounts of dry ice on both lower-cargo and main decks. The airframer says it has kept its operators abreast of the guidelines in "multiple ways", from webinars to individual consultations.
Covid-19 spread around the world in the first quarter of 2020 faster than almost anyone foresaw. The development of vaccines and their roll-out to the population have also taken place at a pace and scale few thought possible. An aviation industry that allows us to travel from almost any part of the planet to another within hours has been both cause and victim of this deadly pandemic. By helping to distribute life-saving vaccines around the world, it is now very much part of the fightback.