In a major milestone for its aviation modernisation effort, the US Army has delivered the engine that will power the service's next-generation attack helicopter to vendors competing to build the new aircraft.
The army's aviation procurement office on 23 October said its Improved Turbine Engine Programme (ITEP) has delivered powerplants to Sikorsky and Bell, which are finalists in the Future Attack Reconnaissance Aircraft (FARA) competition.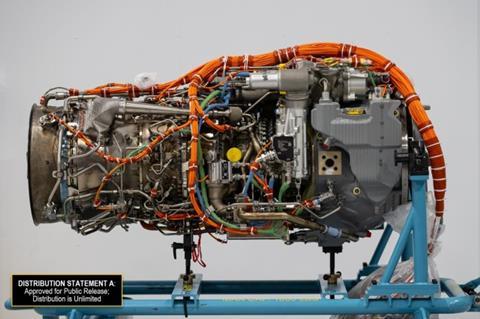 "The army delivered the new 3,000shp engines to Bell's 360 Invictus and Sikorsky's Raider X programmes," the army says.
Built by GE Aerospace the T901 ITEP engine will power not only the two FARA competitive prototypes, but also replace the GE Aerospace T700 engine currently used on all Boeing AH-64E Apache and Sikorsky UH-60M/V Black Hawk helicopters.
"The T901's fuel efficiency improves the enduring fleet's range, and loiter time, while the engine's reliability and life improvements reduce maintenance and sustainment costs," the army says.
Delivery of the T901s to Bell and Sikorsky now provides some clarity as to the FARA programme's future timeline. The army says both competitors will integrate the ITEP engines into their prototypes, with ground testing happening throughout the first quarter of 2024.
"ITEP's upcoming developmental testing includes the completion of system level Preliminary Flight Rating (PFR) testing, which will enable an airworthiness release for flight testing," the army says. "PFR testing is in progress at GE Aerospace facilities and is expected to complete the required testing for FARA's flight demonstration in 2024."
The service predicts first flight of the RaiderX and 360 Invictus will take place sometime in the summer of 2024.
The milestone is a significant achievement for GE Aerospace, which has battled two years of delays that the company blamed on lingering supply chain and labour disruptions stemming from the Covid-19 pandemic.
The army's ITEP programme manager Lieutenant Colonel Kelley Nalley praised GE Aerospace for completing the experimental engine despite the challenges.
"It has taken several years of development to get here, so it's exciting to see the T901 come to life in support of army aviation modernisation," Nalley says.
Both Sikorsky and Bell have for months reported being nearly complete with assembling their prototype aircraft while they awaited ITEP delivery.
However, despite only just receiving the new powerplants, neither company has expressed concern about fitting the T901s into their designs.
GE Aerospace provided highly-accurate, 3D-printed, scale models of the T901 to both companies, which they used to conduct fit tests prior to delivery of the working engines.

Ryan Finnerty is the Americas defence reporter for FlightGlobal.com and Flight International magazine, covering military aviation and the defence industry. He is a former United States Army officer and previously reported for America's National Public Radio system in New York and Hawaii covering energy, economics and military affairs.
View full Profile